Braised sauerkraut and sausage is a classic German Christmas recipe that will make you feel nice and cozy on any cold weather day. This hearty and flavorful dish has the sweet and salty balance of apple and bacon. It pairs perfectly with any number of comfort food sides and a glass of Riesling wine.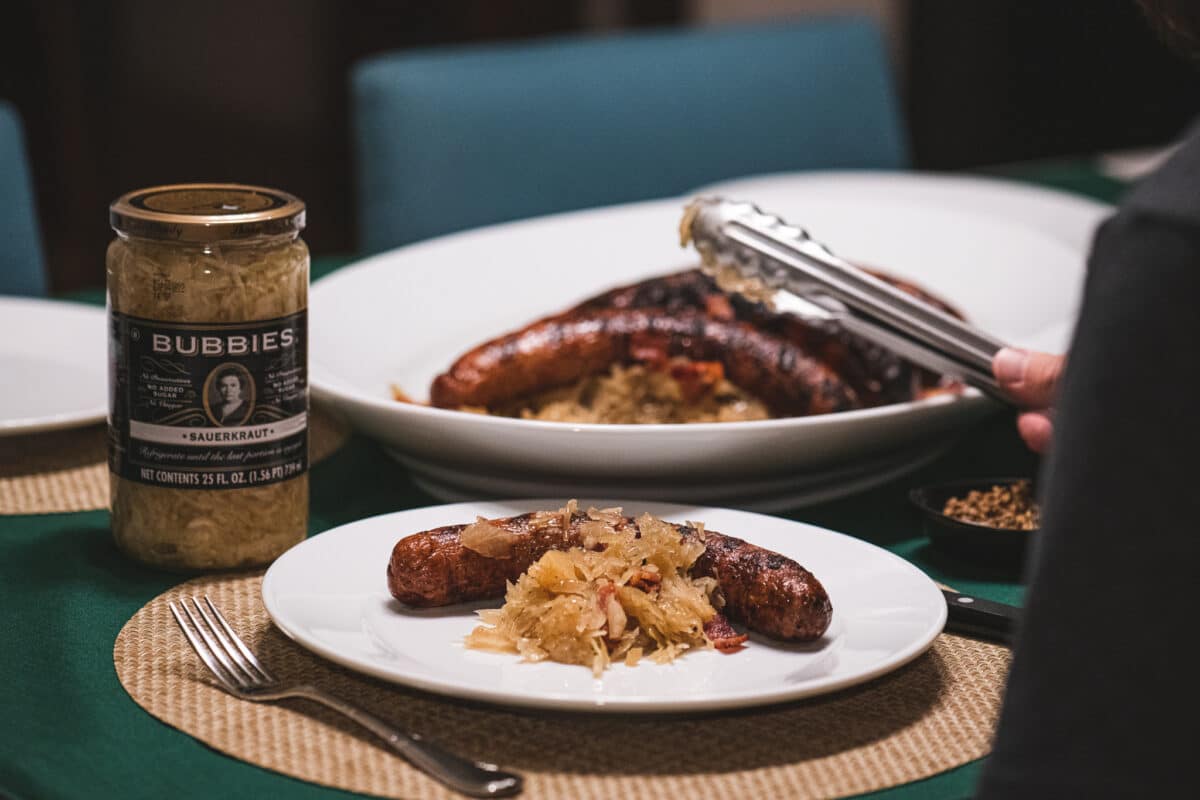 Looking for a lighter fare for your next meal? Try this crisp, sustainably sourced Nicoise Salad with Seared Tuna recipe.
German Recipe Inspiration
I scoured the internet for fun German-inspired recipes that used a ton of sauerkraut. I also wanted to also feature German ingredients that I loved eating during my travels abroad. I sourced as many ingredients as I could locally. The sausages came from a tiny butcher shop in a small town about an hour away, and the Riesling was locally grown and produced. The sauerkraut brand prides itself on simple, authentic ingredients. All these elements together really contribute to the success of this dish.
This recipe was created as part of a sponsorship with Bubbies. Accompanying Instagram post here:
Buy Bubbies Sauerkraut here:
Whole Grain Mustard
I went to a party hosted by a German friend once and asked what the difference was between the mustard brought to the US from Germany and the ones available here. His reply was one was from Germany and one was from the United States. Thus, don't get too caught up on where your condiments are from. Choose a good quality whole grain mustard that is available locally, or make your own! The best kind is going to be the type with simple ingredients. Water, mustard seeds, vinegar, salt, white wine, lactic acid, and maybe one or two other additives depending on the brand and style.
Buy German whole-grain mustard here:
Visual Recipe Steps
Cut the thickly sliced bacon into 1-inch pieces.
In a large enameled cast-iron casserole pot, heat 2 tablespoons of the oil until it shimmers. Add the bacon and cook over moderately high heat until the fat is rendered and the bacon is crisp – about 5 minutes. Using a slotted spoon, transfer the bacon to a paper towel-lined plate.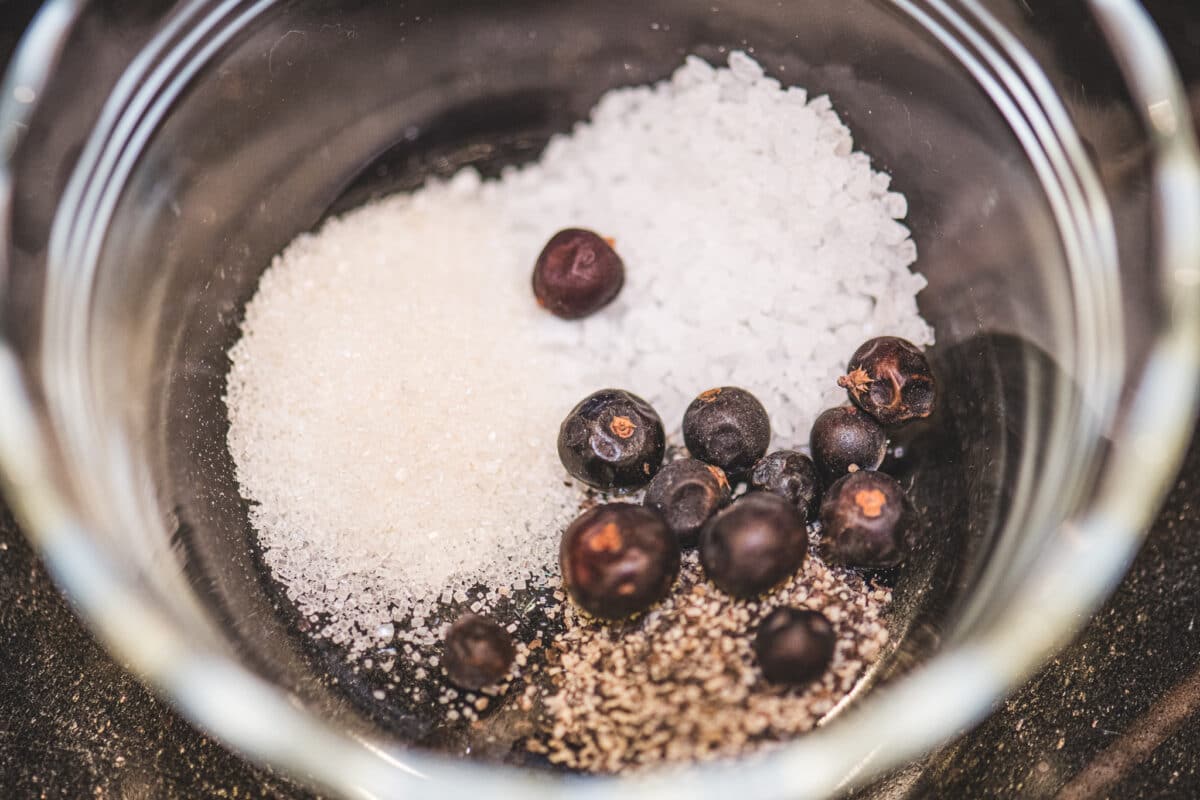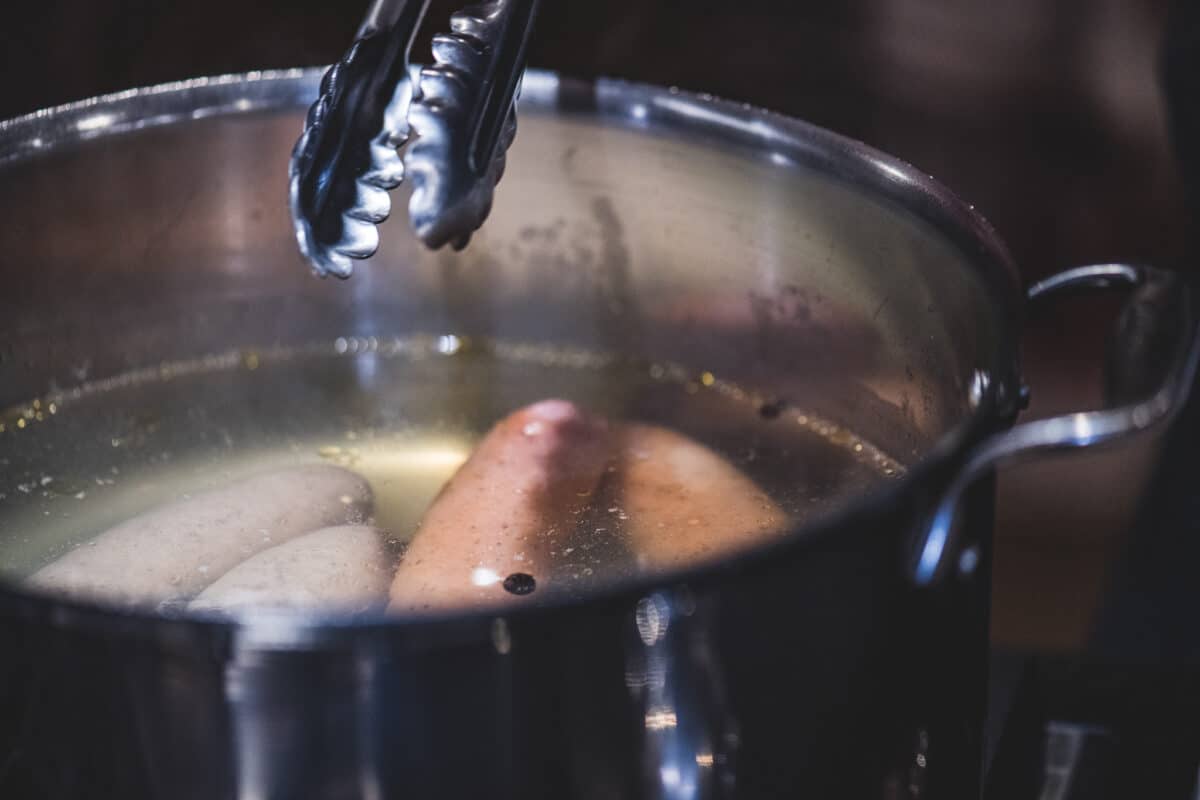 What to Serve with Sauerkraut and Sausage
Roasted root vegetables: This may include crispy potato wedges, hole-roasted sweet potatoes with butter or these delicious roasted carrots!
Creamy polenta: Polenta is simply coarsely ground corn meal. This mild porridge, made with butter and cream cheese, will balance out the fatty sausage.
Mac & cheese – The cheesier, the better.
Applesauce – Try your hand at a simple homemade batch!
Braised Sauerkraut and Sausage
This classic German Christmas dish of braised sauerkraut and sausage makes for a great cold weather meal. Toss in some bacon, apple and a splash of Riesling wine for a very flavorful and hearty dish.
Ingredients
2

tablespoons

Olive Oil

5

ounces

Bacon

Thick cut, slice into 1/2 inch pieces

1

Onion

Large

2

tablespoons

White wine

Dry varietal, Riesling recommended

1

Apple

Large, firm sweet type, such as Fuji or Pink Lady. Peeled, cored and cut into 1/2-inch pieces

15

Juniper berries

4

Bay leaves

1/2

teaspoon

Sugar

1

tsp

Kosher salt

1/2

tsp

Black Pepper

Freshly ground

1

cup

Water

2 1/2

pounds

Sauerkraut

Drained, rinsed and squeezed dry (4 packed cups). 2 jars of Bubbies Sauerkraut.

12

Sausages

German style, such as weisswurst or bratwurst

Whole Grain mustard

For serving
Instructions
Drain the Sauerkraut in a colander. Then rinse and squeeze out excess water with your hands. Set the sauerkraut aside on a cloth until you're ready to add it to the casserole pot.

Coarsely chop the onion into small pieces and set aside.

Cut the bacon slices into 1/2-inch pieces and set aside.

In a large enameled cast-iron casserole pot, heat 2 tablespoons of the oil until shimmering.

Add the bacon and cook over moderately high heat until the fat is rendered, and the bacon is crisp – about 5 minutes. Using a slotted spoon, transfer the bacon to a paper towel lined plate.

Next, add the onion pieces to the casserole pot. Cover partially and cook over medum-low heat until very soft, stirring occasionally – about 20 minutes.

Add the wine, apple, juniper berries, bay leaves, sugar, kosher salt and ground pepper. Increase the heat to moderately high and simmer for 3 minutes.

Then, add the water and the sauerkraut. Cover and reduce the heat to low. Cook until the apple is very tender – about 45 minutes.

While you are waiting, begin preparing the sausages. If you bought packaged sausages, follow the instructions provided by the retailer. For raw sausages:

Put the sausages in a large pot of water and bring the water to a boil.

Once the water has come to a boil, remove the pot from the burner. Cover and let stand for 10 minutes.

Remove the sausages from the pot and set them aside to rest for 5 minutes. Brown them on the BBQ or a skillet over medium-high heat. The sauerkraut mixture should be nearly done by this point.

Spoon the sauerkraut onto a platter and arrange the sausages on top. Sprinkle the bacon over the sausages and serve with whole-grain mustard.
Nutrition
Serving:
6
people
Calories:
4564
kcal
Carbohydrates:
90
g
Protein:
184
g
Fat:
383
g
Saturated Fat:
117
g
Cholesterol:
828
mg
Sodium:
17268
mg
Potassium:
5093
mg
Fiber:
39
g
Sugar:
46
g
Vitamin A:
1120
IU
Vitamin C:
190
mg
Calcium:
468
mg
Iron:
29
mg
Tried this recipe?
Let us know how it was – tag @themklibrary on the socials!
About the Author
Latest Posts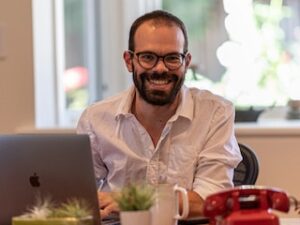 I strive to paint vivid landscapes with my words, bringing the magic of far-off lands and enchanting aromas to life for my readers. Combine passion for exploration and the art of gastronomy in an unending ode to the senses. When I'm not traversing the globe, I find solace in the earth beneath my fingertips, tending to my garden and working on projects around my verdant oasis. MK Library serves as a beacon, guiding fellow travelers and homebodies alike to embrace sustainability, nurturing both our planet and our souls with purpose. Full Bio.
Last update on 2023-12-06 / Affiliate links / Images from Amazon Product Advertising API