Learn how to run an optimal installation and use PhotoStructure for Synology Docker containers, also known as Container Manager. This guide makes use of Docker, and takes into consideration the needs of a working professional and separating Photo Libraries, such as one for work and one for family photos.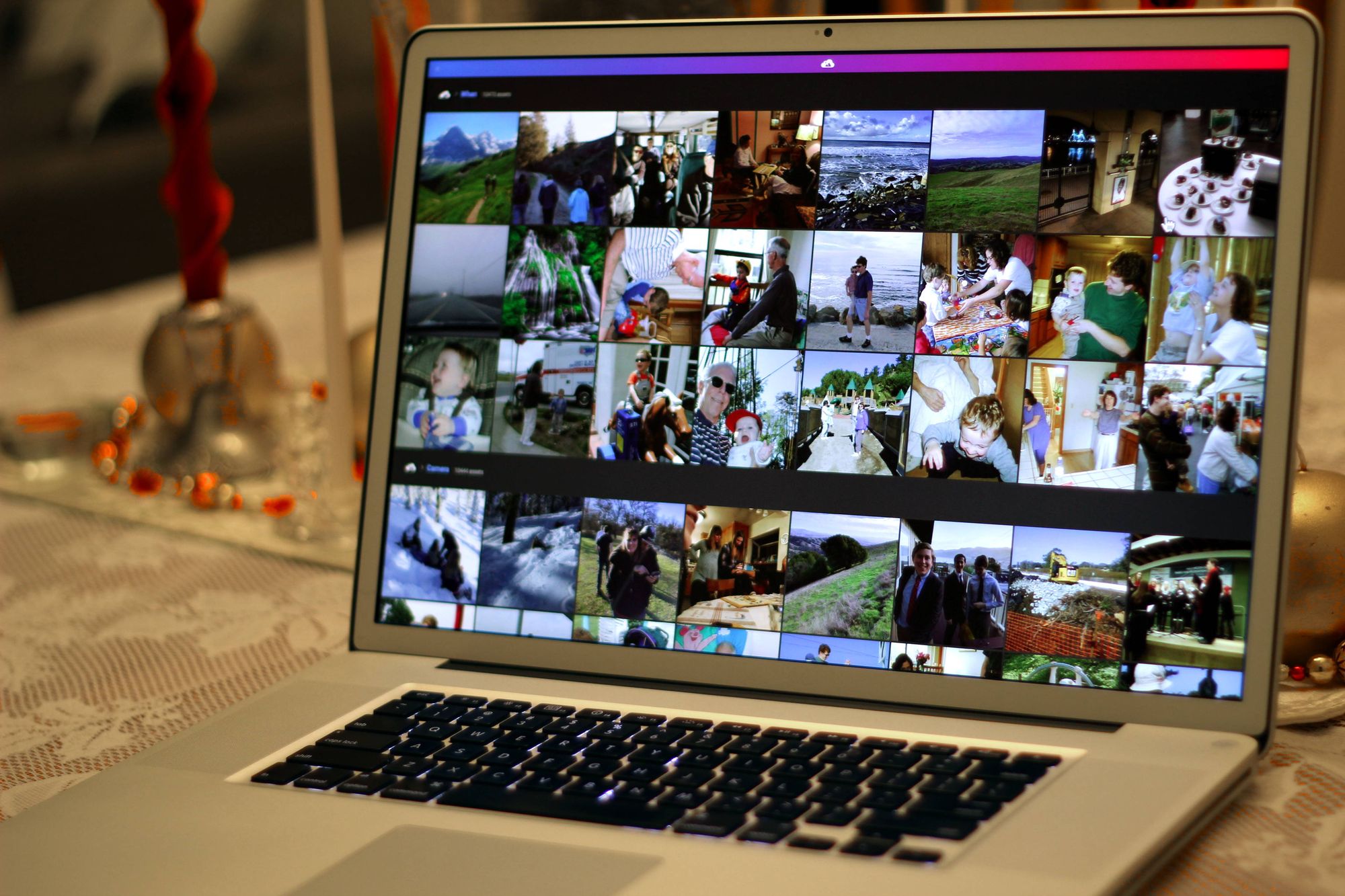 PhotoStructure is a self-hosted photo management program that provides cloud functionality while allowing you to keep data yours. It automatically organizes and deduplicates your photos utilizing lossless methods. System-agnostic, you can take your photo library and run it on Windows, Mac, Synology, Linux, or pretty much any other operating system you throw at it.
What You Need
I want photo organization, but need to separate my work from personal photos. On my Synology NAS, I already have two Volumes and Shared Folders setup, where I have placed photos of each purpose. I have Photos, which is for my personal media, and MK, which contains all of my work-related media.
The end result has 2 different PhotoStructure Docker containers running concurrently. Each can be accessed by changing the port, with 1787 being PhotoStructure's default. 1788 isn't used by any other service on my Synology, so I felt it safe to push the number up 1.
This method could easily be reproduced and adapted for additional Photo Libraries beyond the two.
Installing PhotoStructure in Container Manager
Open up Container Manager and click on the Registry tab. Type in PhotoStructure.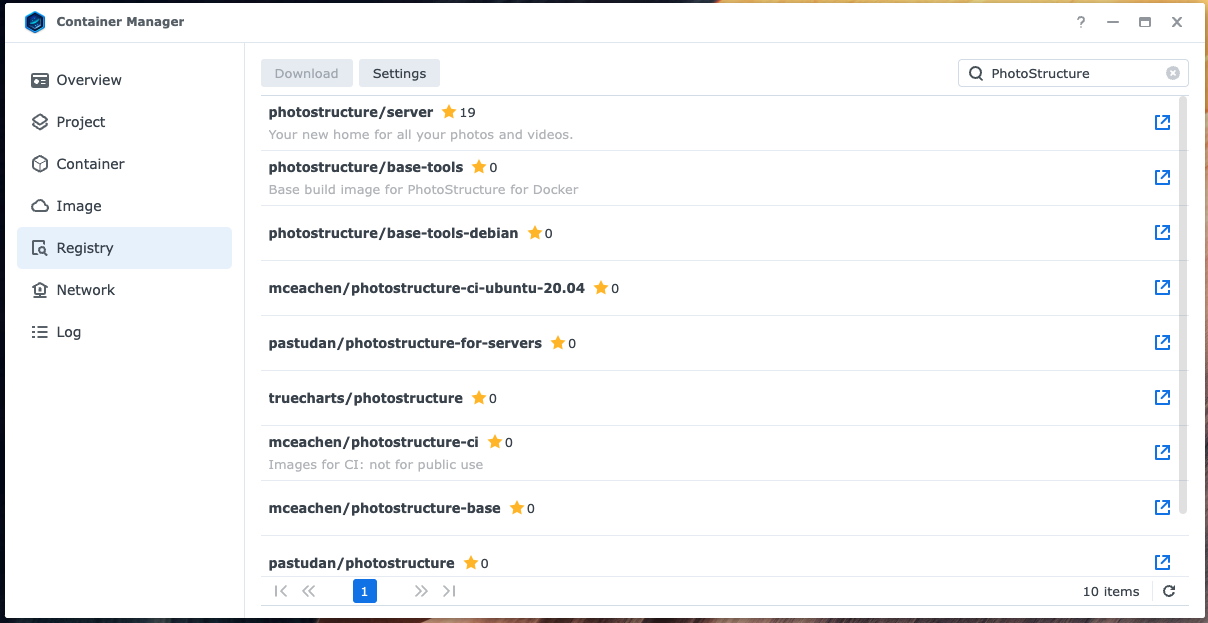 Double-click on the photostructure/server result. You can choose to either get the Latest tag, or if you're adventurous and want to check out the newest photo management features, find the Alpha tag and get that.
After hitting Apply, you'll know the Image is ready when there is a notification from Container Manager. and the blue Downloading text gets to 100% and disappears.
Click on the Container Tab in the Container manager and Create a Container for PhotoStructure. These are my initial settings:
Docker Settings
localhost:1787
localhost:1788
Before you dive in, it'd be a great idea to review the official documentation on installing PhotoStructure for Servers.
Advanced Settings Example:
PS_LOG_LEVEL info
PS_IS_DOCKER 1
PS_LOG_STDOUT 0
PS_FORCE_LOCAL_DB_REPLICA 0
PUID needtofindforyou
PGID 100
PS_HTTP_PORT 1788
Volume Settings Example
File/Folder: /docker/photostructure Mount Path: /ps/library
File/Folder: /Photos Mount Path: /Photos
Shared Folder Settings
I discovered during a debugging session with the Photostructure developer that Shared Folders needed to have the specific user added to Permissions. Just having a group added to the Shared Folder may not be enough in a lot of use cases. Even if your user is the administrator.
From File Station, right click on the Shared Folder with your photo library and click Properties. Hit the Permissions Tab, and then the Create button to add yourself as a specific user.
Make sure Read and Write permissions are granted.
Hit Done on the Permission Editor Screen, hit the checkbox to Apply to all Folders/Subfolders/etc, then click Save. Wait for the permissions to be applied then move onto the next step.
Setting Up the First Container
Add these Variables
Setup the Second Container
There will be one minor difference as you setup the second Photo Library. Well, two. First, you will specify a different volume. The second is adding a variable to change the port.
This additional setting is key: PS_HTTP_PORT 1788
The Volume settings are mapped to the second work Volume, so each Library and Docker files are on that particular volume. This allows me to totally separate Photo Libraries and settings, and quickly pick up and move around each one as needed. I can also access them from new systems without them ever interacting with one another.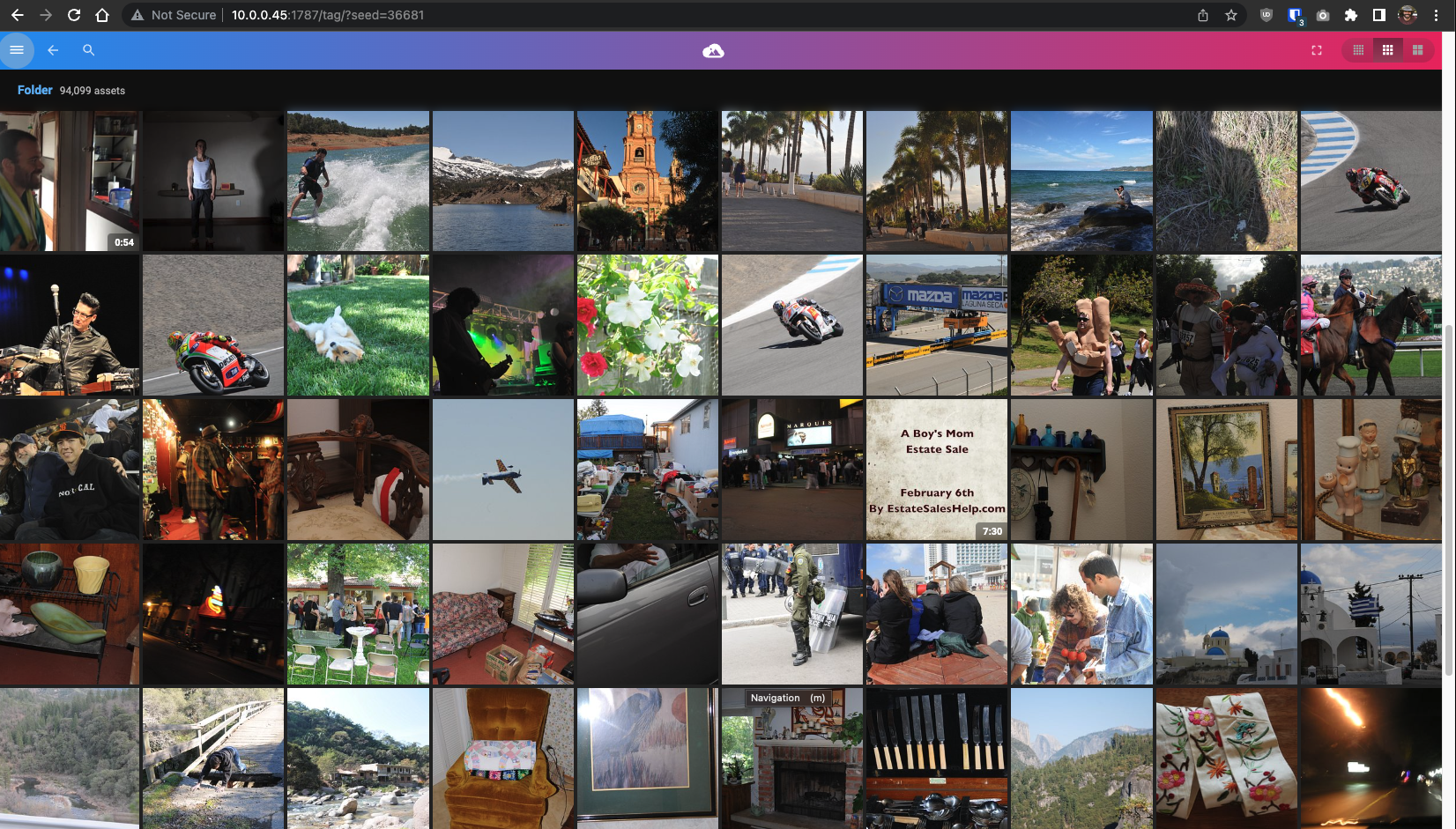 Performance
One of the best things I did was move the .photostructure folder onto its own SSD drive on my Synology NAS. My combined libraries of around 200k+ photos and video take about 2TB of data, so I bought a 4TB SSD SATA drive and moved the libraries onto that. Huge performance gains in browsing and loading thumbnails. I highly recommend doing the same if your setup allows.
In watching how the two Docker containers perform, PhotoStucture does a great job in resource use and not overloading the server as it processes photos or video. I've noticed the two Libraries seem to go back and forth in using FFmpeg and other resources, with neither eating up everything at once.
I've been able to run everything else alongside PhotoStucture without any issues.
Sync is run every 24 hours. If you make lots of changes to the folder structure on your own, you may want to restart sync manually.
If you're interested in more photography tips and tricks or your workflow, check out the article on Camera Accessories.
Changelog
July 30 2023: Added Performance information on using SSD drives.
July 29 2023: Updated for Synology DSM 7.2.x and Container Manager.
April 22 2023: Guide last tested with Synology DSM 7.1.1.x Update 5.
April 5 2023: Guide last tested with Synology DSM 7.1.x and PhotoStucture 2.1.0-alpha.7.
April 2 2023: Updated Shared Folder settings.
February 16 2013: First published.
I strive to paint vivid landscapes with my words, bringing the magic of far-off lands and enchanting aromas to life for my readers. Combine passion for exploration and the art of gastronomy in an unending ode to the senses. When I'm not traversing the globe, I find solace in the earth beneath my fingertips, tending to my garden and working on projects around my verdant oasis. MK Library serves as a beacon, guiding fellow travelers and homebodies alike to embrace sustainability, nurturing both our planet and our souls with purpose. Full Bio.