This Paccheri Pasta with summer vegetables recipe features fresh squash, zucchini, and the vibrant flavors of sweet heirloom cherry tomatoes. Large paccheri noodles capture the bright tomato sauce and make for a hearty, yet balanced pasta dish.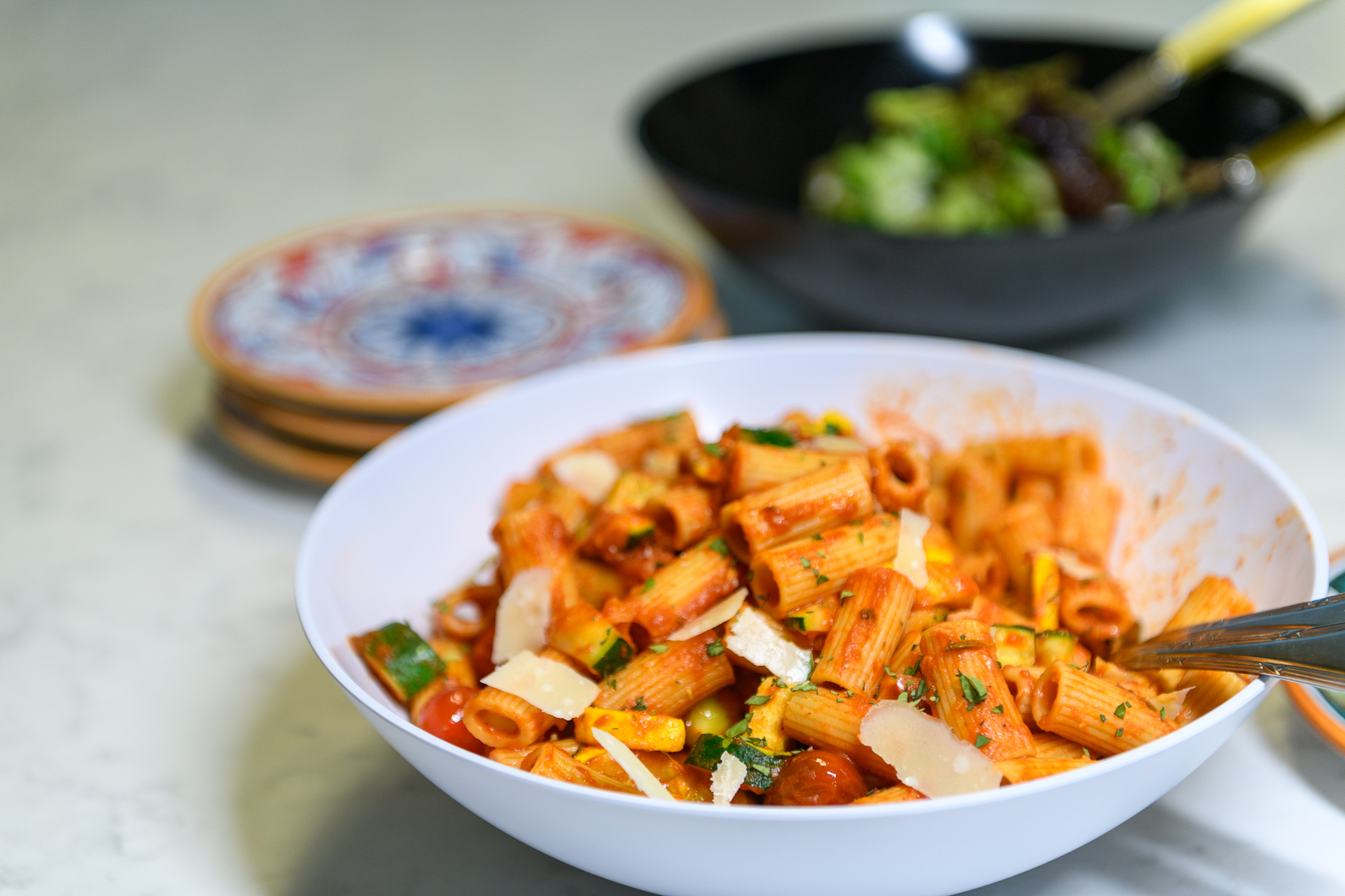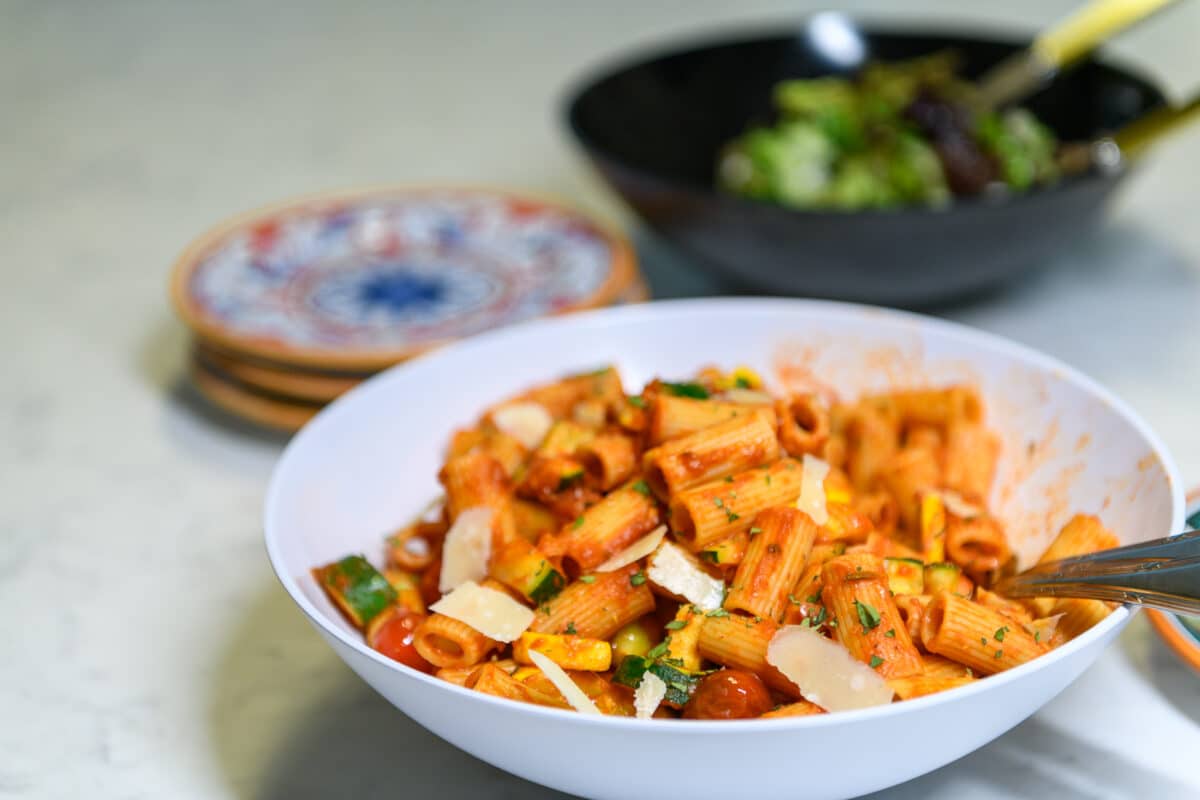 When I last visited the Amalfi Coast in Italy last year, I was enamored with the vibrant flavors that came through in the simplest of dishes. Back home in Sacramento, I watched Under the Tuscan Sun and was reminded of my time along the Amalfi Coast, driving down winding mountain roads and witnessing a gorgeous sunset!
I wanted to recreate some of the Italian food I enjoyed at home, using thoughtfully-sourced ingredients and vegetables from my own garden. Despite growing my own tomatoes, I prefer to use canned tomato sauce and paste – the consistency and deep flavors are something I've never been able to achieve on my own. That, and the nostalgia of my own Italian grandmother using the same Contadina product years ago.
What is Paccheri Pasta?
This short, tube-like pasta hails from the Southwest region of Italy called Campania, and is a traditional Neapolitan dish. Paccheri is either formed with smooth sides or tight ridges (which some people believe holds sauces and grated cheese better). It should be served al dente (firm to the bite), to best accompany a serious helping of sauce. Whichever way they are prepared, however, this pasta always makes for a hearty meal! 
Paccheri Pasta Sauces
Traditionally, paccheri dishes can often be very garlicky, which makes sense given its unique origins. You will often find the noodles stuffed with sausage, porcini mushrooms, or creamy cheeses such as ricotta or burrata, and finally topped with a red or garlic white wine sauce. Paccheri can also be tossed with a thick meat-based ragu or bolognese.
Paccheri Pasta's Garlicky History
According to the Pasta Project, paccheri pasta has an extremely intriguing history.
Apparently, the fat tubes were once used as a way to smuggle banned garlic cloves across the Alps (an extensive mountain range in Europe) into Prussia, or what is Austria today. Back then, the large, pungent Southern Italian garlic cloves were coveted by the Prussian and Hungarian aristocracy. So to protect their own garlic farmers, the Prussians banned the importation of Italian garlic in the early 1600s.
This put a huge strain on Southern Italian garlic farmers, whose livelihoods depended on the Prussian Garlic market. To continue making a living, these pasta makers invented paccheri pasta with the unique purpose of concealing approximately four cloves of Italian garlic. Turns out these pasta makers were also master smugglers. Their smuggling efforts were so effective that the Prussian government never figured out how Italian garlic was crossing its borders.
The origin of the name paccheri is also a real knee slapper.
The word is derived from the Neapolitan term paccharia, which means to pat or to give a slap with an open hand (not aggressively). Many believe this name came about because of the slapping sound the pasta makes when mixed with sauce in a bowl. ¯\_(ツ)_/¯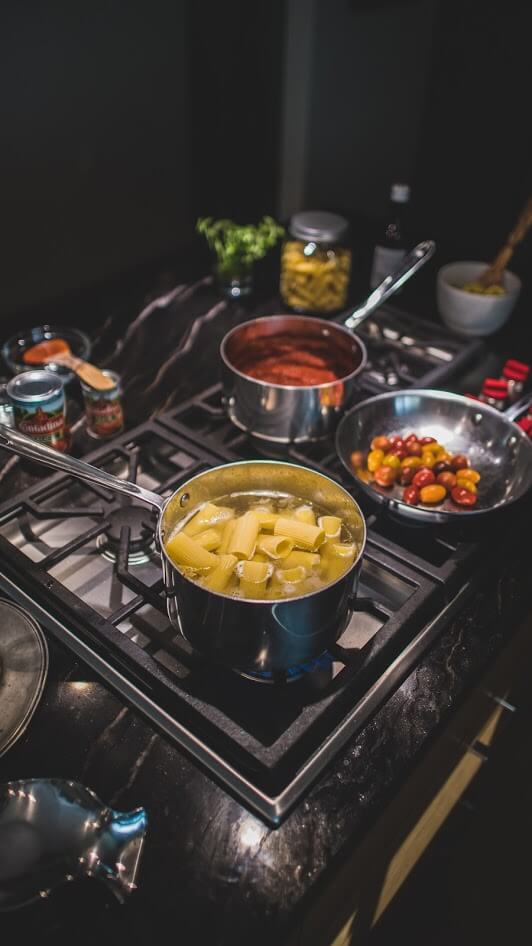 WHAT TO SERVE WITH PACCHERI PASTA
Bread – What better way to soak up that extra precious sauce than with a slice of sourdough, baguette or olive bread. Toss it in the oven for a few minutes before serving for that extra crunch.
Salad – Toss some fresh spring greens together with olive oil and balsamic vinegar and top with toasted pine nuts and asiago cheese.
Need to Mix it Up?
Can't find paccheri pasta? Though significantly smaller, rigatoni is a good substitute. Penne or ziti also works great.
Need to satisfy the carnivores? Add some Italian ground pork sausage without casings. Spicy sausage is the way to go.
Not a fan of canned tomato sauce? Try using canned diced tomatoes or canned crushed tomatoes instead.
Paccheri Pasta Recipe:
Paccheri Pasta with Summer Vegetables Recipe
This refreshing Paccheri Pasta recipe combines the vibrant flavors of fresh vegetables to create a unique summer pasta dish.
Equipment
4 Quart Pan

1 Quart Pan

Sautee pan

Chef's knife

Cutting board

Colander

Large bowl

Medium bowl

Serving dish
Ingredients
Instructions
In a 1 quart pan, pour a few dashes of olive oil in the pan over medium heat.

Add in chopped yellow onion and minced garlic. Simmer until translucent.

Add in Tomato Sauce and Tomato Paste. Stir the ingredients gently.

Strip oregano leaves from the stem and sprinkle over the top of the tomato sauce into the shape of a heart.

Bring to a simmer, stirring to keep bottom from burning and big bubbles from bursting.

Add salt and pepper to taste.

After about 30 minutes, stirring occasionaly, remove from heat.

In a pan with a dash of olive oil, sauté the sliced squash and zucchini. Place the vegetables in bowl away from the heat.

Sauté cherry tomatoes in the same pan until slightly wrinkled. Set aside.

In the 4 quart pan, fill 2/3 full and bring water to a rolling boil. Follow the Paccheri pasta cooking instructions. Usually around 10-12 minutes.

Drain the Paccheri pasta, put back into the 4 quart pan, and add in enough sauce to lightly coat the pasta.

Add in the zucchini, squash, and cherry tomatoes. Add additional tomato sauce to taste or personal preference. Gently stir to thoroughly coat. You will have some leftover tomato sauce.

Place the Paccheri pasta with vegetables and tomato sauce into your serving dish. Sprinkle with fresh oregano leaves and the sliced parmesan to taste.

Present extra tomato sauce for guests to add as much as their heart desires.
Notes
If Paccheri pasta isn't available, rigatoni pasta is a safe substitute.
Nutrition
Serving:
1
g
Calories:
647
kcal
Carbohydrates:
138
g
Protein:
24
g
Fat:
3
g
Saturated Fat:
1
g
Sodium:
2141
mg
Potassium:
2716
mg
Fiber:
16
g
Sugar:
29
g
Vitamin A:
22357
IU
Vitamin C:
91
mg
Calcium:
213
mg
Iron:
9
mg
Tried this recipe?
Let us know how it was – tag @themklibrary on the socials!
I strive to paint vivid landscapes with my words, bringing the magic of far-off lands and enchanting aromas to life for my readers. Combine passion for exploration and the art of gastronomy in an unending ode to the senses. When I'm not traversing the globe, I find solace in the earth beneath my fingertips, tending to my garden and working on projects around my verdant oasis. MK Library serves as a beacon, guiding fellow travelers and homebodies alike to embrace sustainability, nurturing both our planet and our souls with purpose. Full Bio.