If you are lucky enough to have a small balcony, you know the joys of spending time outside your home but still within earshot of your loved ones. A well-styled balcony can be an outstanding addition to your home and a great spot to relax during those warm summer months. In this article, we will discuss six simple design ideas that will help you upgrade your small balcony!
Plants plants plants!
When it comes to gardening, there are some plants that do better than others when confined to a small space. If you're looking for ideas on what to plant on your balcony check out this shortlist below!
Succulents: Succulents are a great option for those with a small balcony because they don't require much watering and can tolerate some neglect.
Herbs: Herbs are another great option for balconies as they don't take up much space and can provide you with fresh ingredients for cooking.
Flowers: While flowers may require more maintenance than other plants, they can add a pop of color to your balcony.
If you're looking for something a little different, why not try growing vegetables on your balcony? Vegetables like tomatoes and peppers are perfect for small spaces and can be grown in containers. Just make sure to provide them with plenty of sunlight!
Whatever plants you choose to grow, make sure to research the needs of each plant in order to give them the best chance for success. With a little bit of effort, you can create a beautiful and relaxing oasis on your small balcony!
Invest in quality furniture
When it comes to furniture for a small balcony, there are a few things to consider. The first thing to think about is the size of your balcony. If you have a small balcony, you will want to choose furniture that is compact and doesn't take up too much space.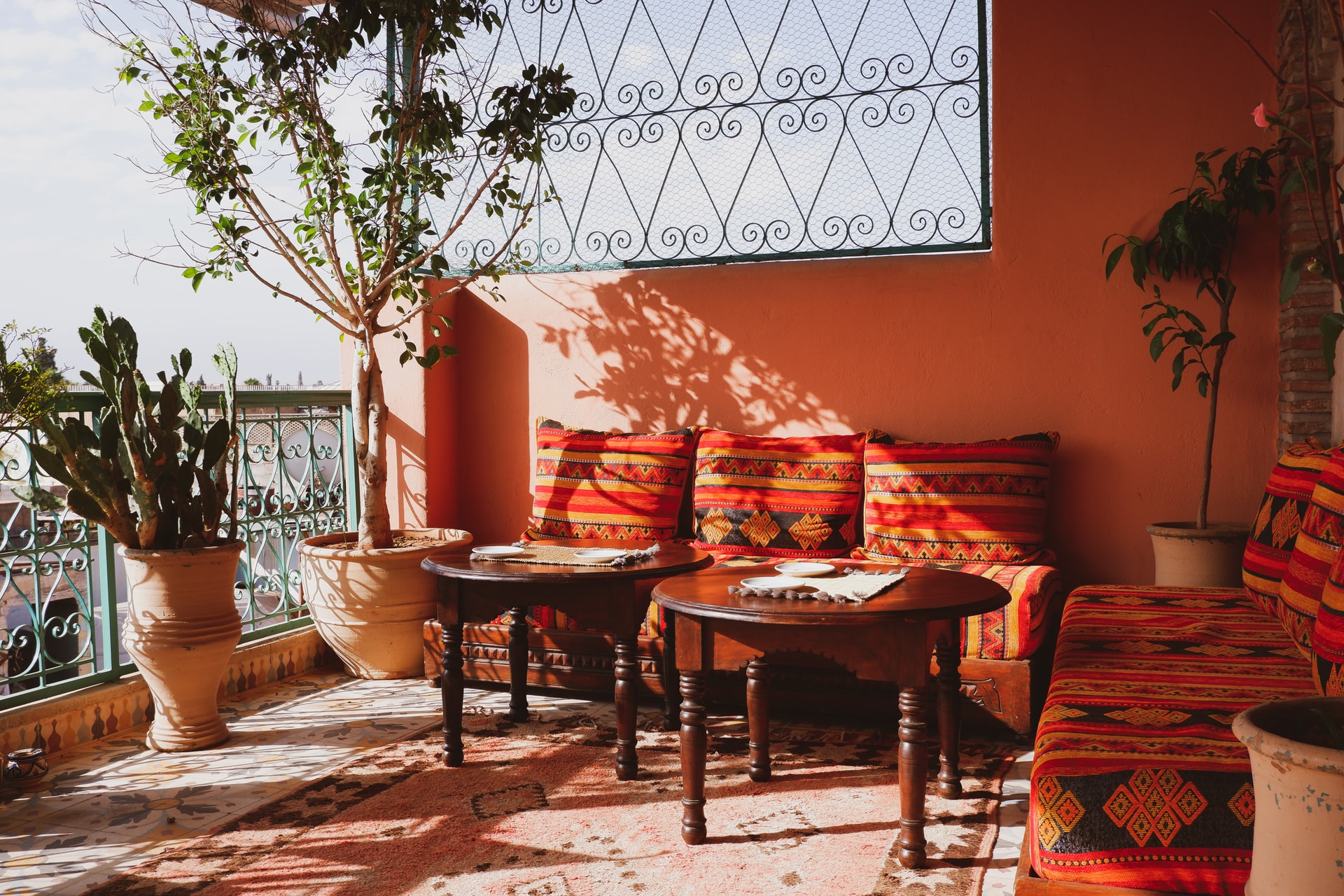 Another thing to consider is the average type of climate in your area. If you live in an area with a lot of humidity, you will want to choose furniture that is made from materials that can withstand the weather. This is where outdoor cushions come in very handy, as well. While we're on the subject, it's good to know that some companies specialize in large outdoor covers that can vastly prolong the usability and looks of your outdoor cushions. Either way, weather resistance from both rain and harsh sun should be your top priority when looking to furnish your balcony.
Finally, you will want to think about the style of your home and balcony. If you have a modern home, you will want to choose furniture that has clean lines and a minimalistic design. If you have a more traditional home, you will want to choose furniture that is more ornate and has a classic look.
Curtains bring both functionality and style
Curtains can add privacy and make a balcony feel more like an extension of your home. With curtains adorning your balcony you would never have to worry about prying eyes and they can also help you regulate the amount of sunlight you would want at any given time.
Aside from their functional use, they can be incredibly stylish if chosen properly. Some curtains can bring out a minimalistic look for your balcony while others can look outworld if you choose appropriate patterns. Feel free to explore and maybe even purchase a few types to mix and match depending on the seasons or your current mood.
Lighting is important
String lights or fairy lights can create a cozy atmosphere and make your balcony not only usable but romantic during the night if you feel like it. With appropriate lighting, your small balcony could be a perfect place to read regardless of the time of day.
Let your imagination run wild
There are endless possibilities when it comes to decorating your balcony, so get creative and have fun with it! Here are some ideas to get you started:
Hang a hammock or porch swing for lazy afternoons reading and relaxing.
Hang a bird feeder and watch the local wildlife from your balcony.
Install a small table and chairs for dining al fresco.
Add some cozy pillows and blankets for chilly evenings spent outdoors.
Whatever you do, make sure your balcony is a space that you enjoy spending time in. With a little bit of effort, it can be the perfect spot to relax and unwind after a long day.
Small balconies can be a great addition to any home. With a little bit of creativity, they can be turned into functional and inviting spaces. By adding some personal touches, like plants or outdoor furniture, you can make your balcony a space that you enjoy spending time in. With a little bit of effort, your small balcony can become a great extension of your home.
If you have a small balcony, don't be discouraged – there are plenty of ways to make the most of it. With some creativity and effort, you can turn it into a space that you're proud of. So get out there and start making the most of your small balcony!
About the Author
Latest Posts
Whether she is researching the latest trends in home decor, life-changing destination getaways, or the best way to maintain your finances, Dewey takes pride in leaving no stone unturned. She is passionate about distilling and delivering high-quality information that you can use to upgrade your life.