After receiving an official looking postcard in the mail which read Notice of Parcel and a sense of urgency, my spidey senses went on full alert. Normally, notices from the post office or UPS or FedEx are placed in a different location – this one went in with the rest of my mail, and was postmarked from 3 days ago. Most likely a scam, but I wanted to learn more, hopefully to help prevent others from falling victim.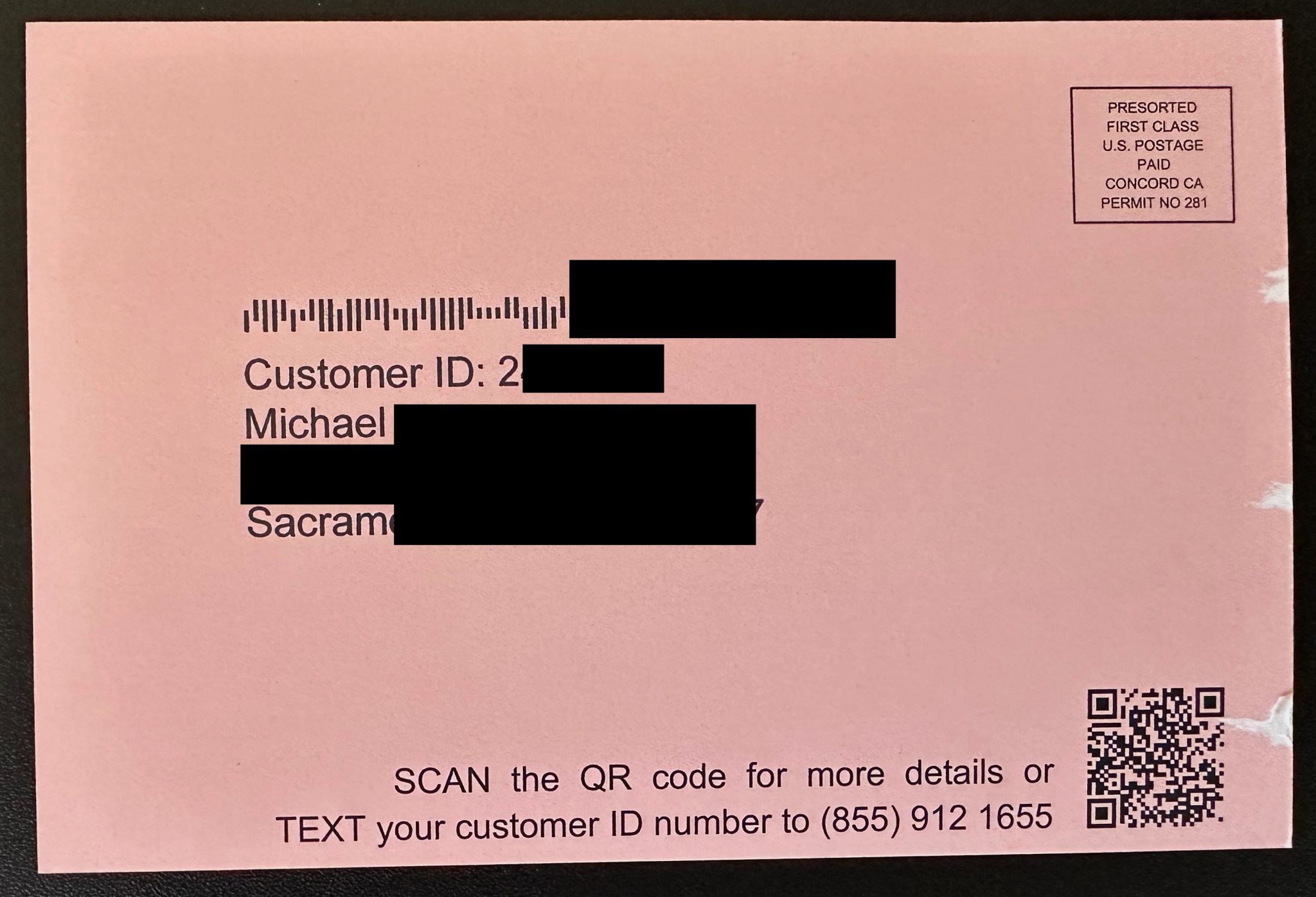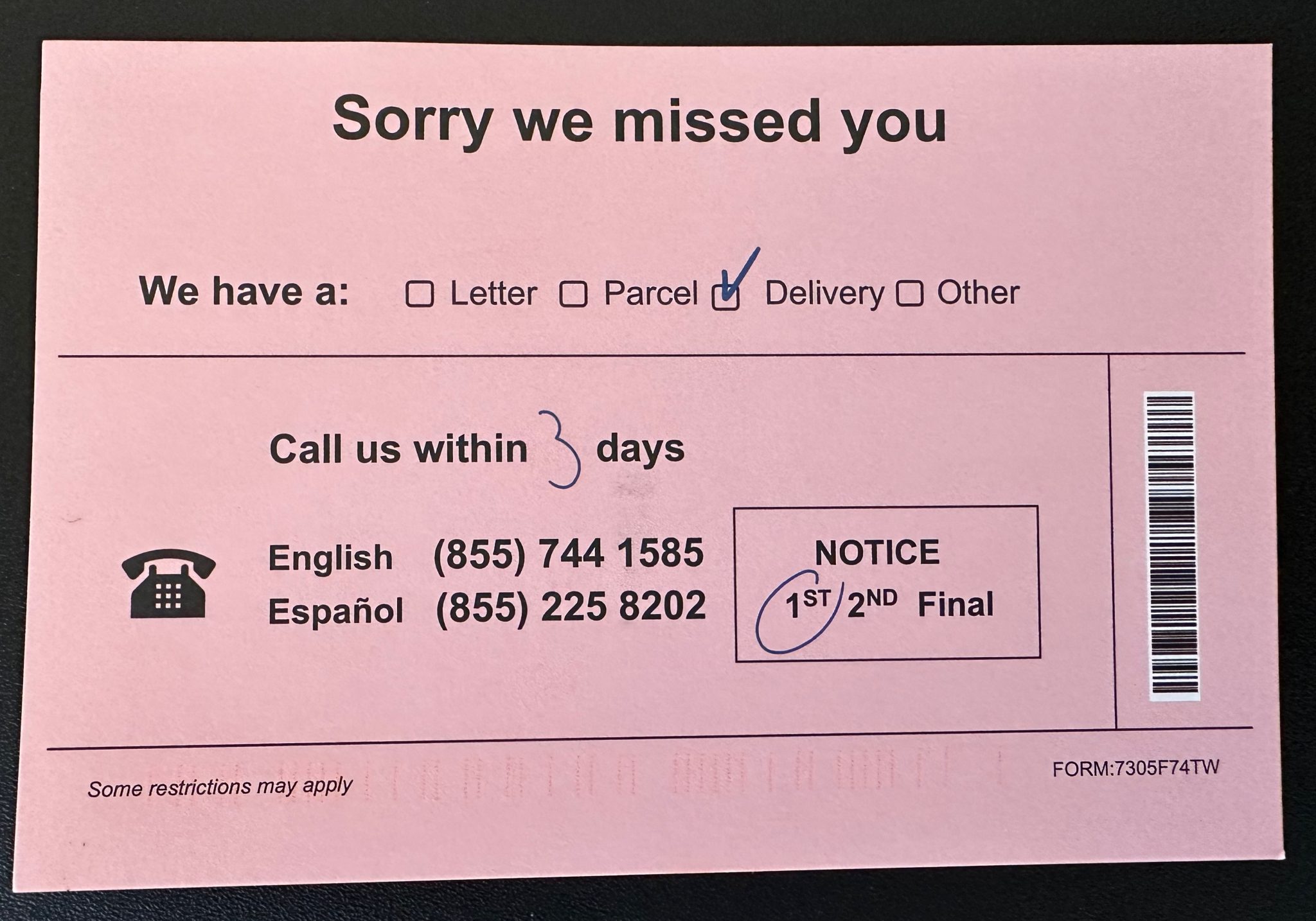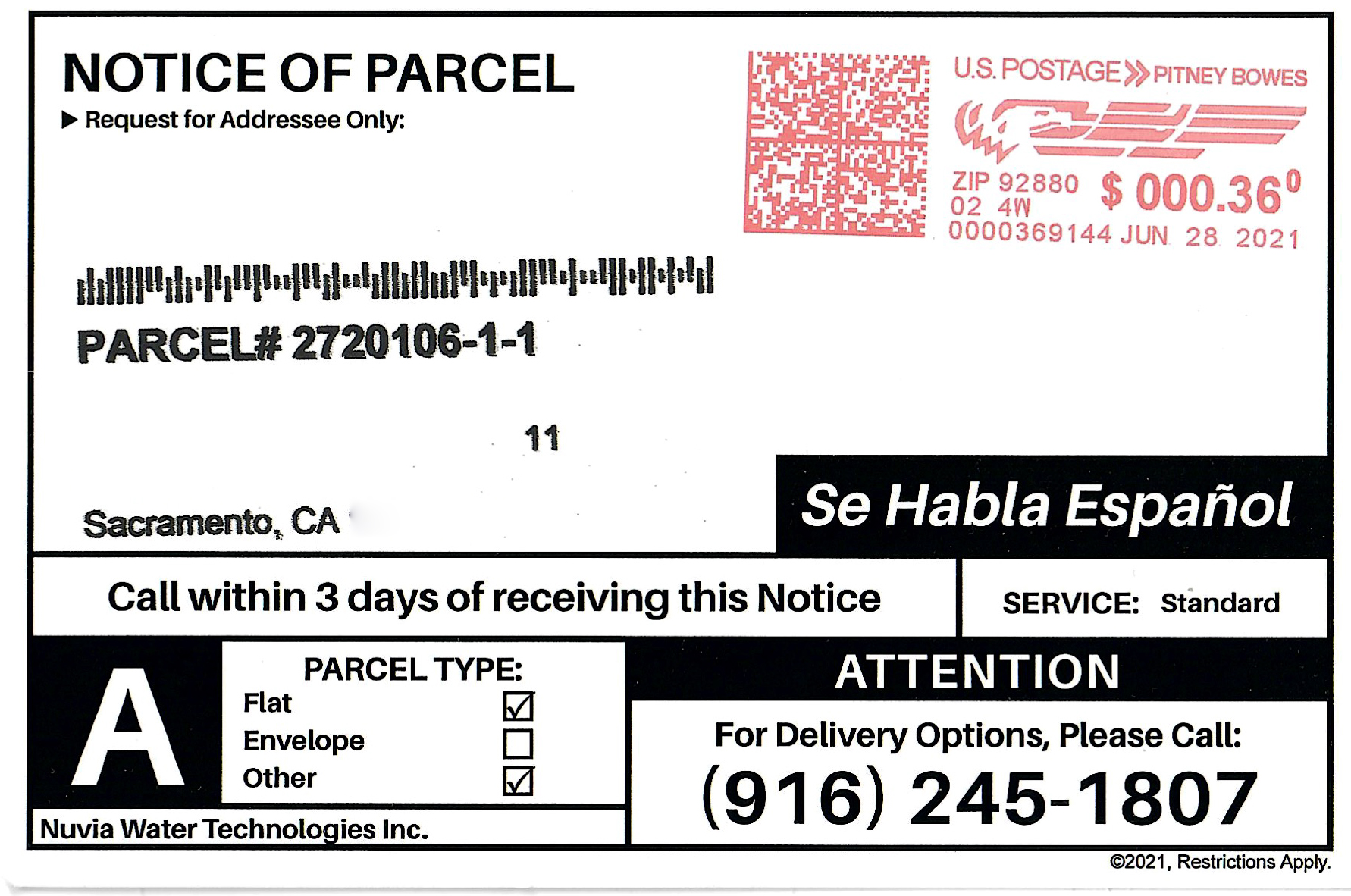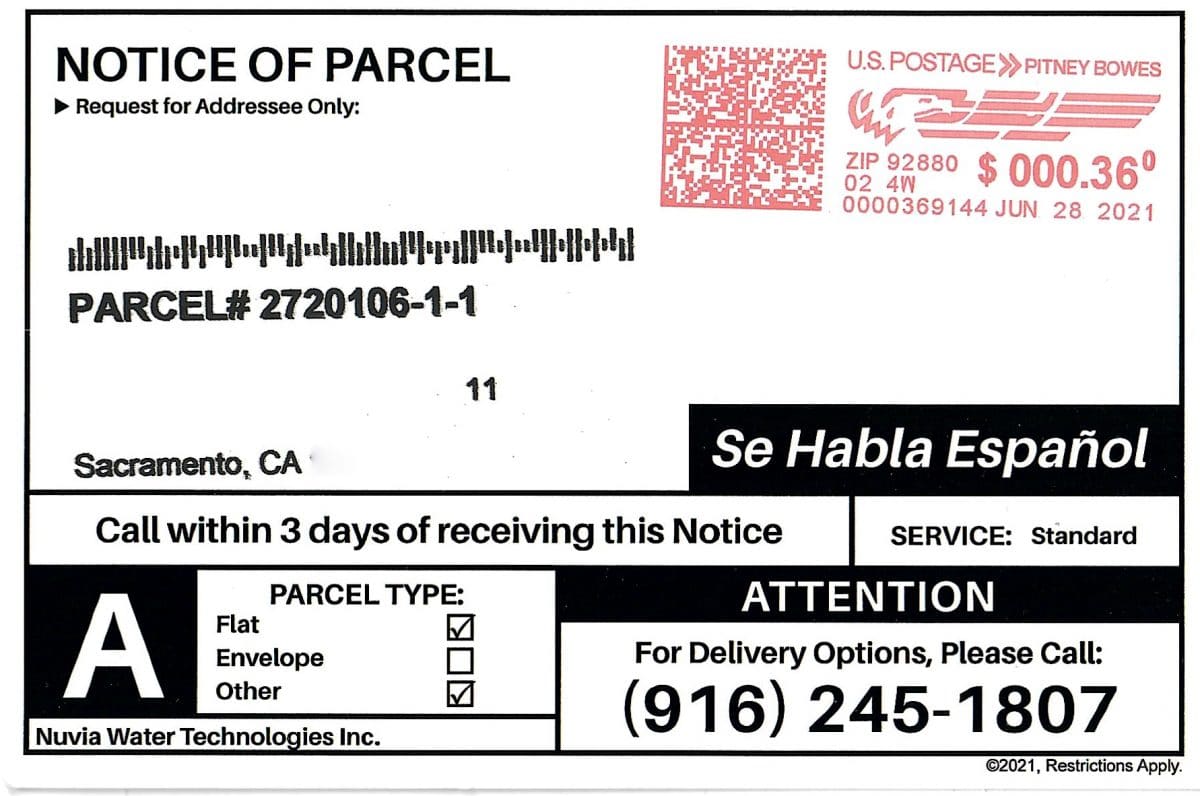 As it turns out, this scam has been circulating in waves for several years. It is run by a company called Nuvia Water Technologies.
I called, withholding my own information, save for my number I called from, to get a better idea of what was going on. The person who answered sounded fairly young and told me he had been working at this call center for a little over a year and the job had a lot of great perks. He did confirm the company was Nuvia. When pressed, he wouldn't tell me what they were. He started telling me he had 10 other people on hold waiting for him to answer and needed to go.
He kept asking me for the parcel# on the postcard, which I have a strong suspicion would confirm my address, giving the company motivation to start their sales tactics with me.
Other recipients of the postcard that have called report that the call center requests your information, will send a free water testing kit, then inundate you with aggressive sales tactics and harassment for a water softener.
There may also be a fee associated with "releasing the parcel" and claims of it being very valuable.
The thing that irks me is apparently the USPS / USPIS knows about this predatory behavior and continues to accept and deliver mail for it.
What Can Go Wrong?
You may inadvertently give up personal information, which allows a scammer to steal your personal information or identity.
Recurring subscription charges may be created for future product deliveries you didn't sign up for. Even if all you think you are accepting is a free sample.
You can be tricked into being charged a fee for releasing a mysterious package.
What To Do?
Ignore it.
Report it to either the USPIS, Federal Trade Commission, your state's Attorney General's office, or the Internet Crime Complaint Center.
Reported Notices
May 2021 Notice of Parcel on Hold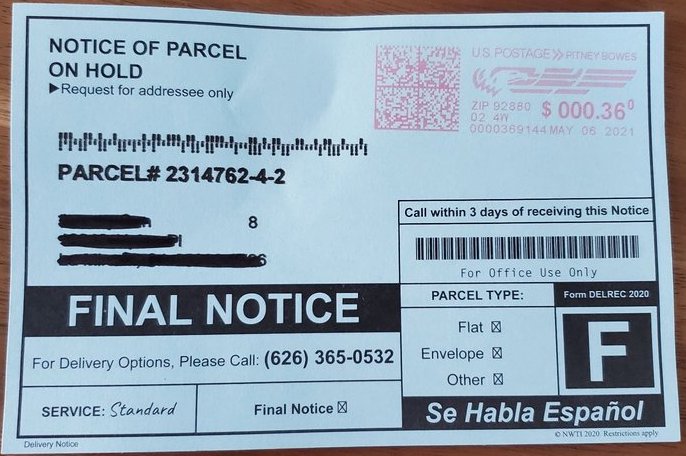 April 2021 Notice of Parcel on Hold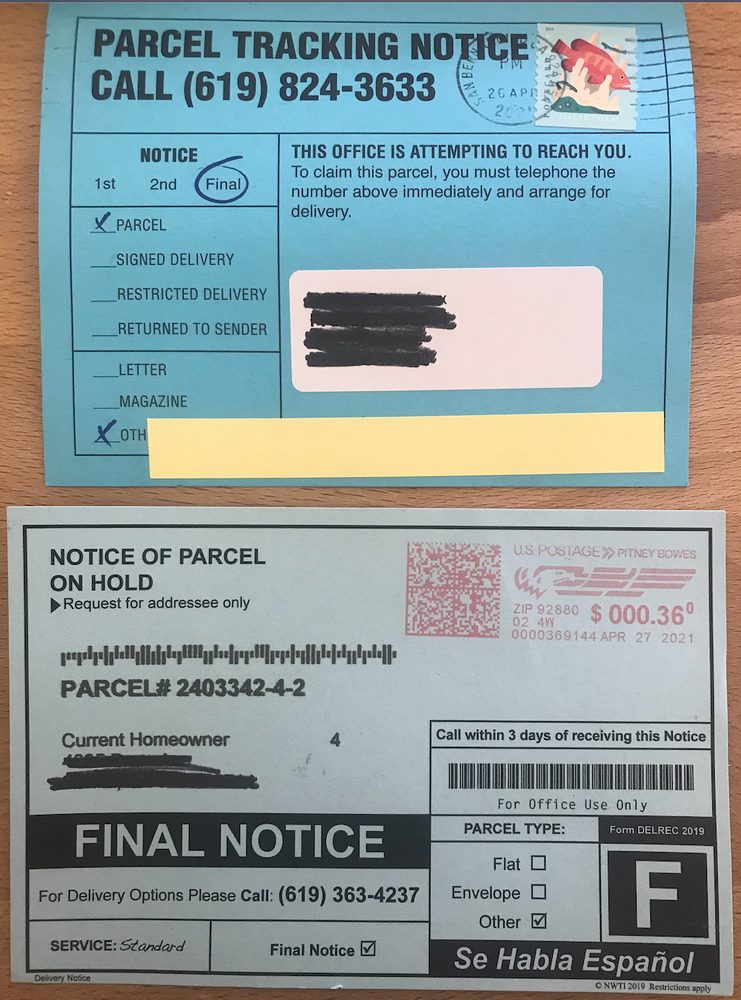 January 2021 Notice of Parcel on Hold: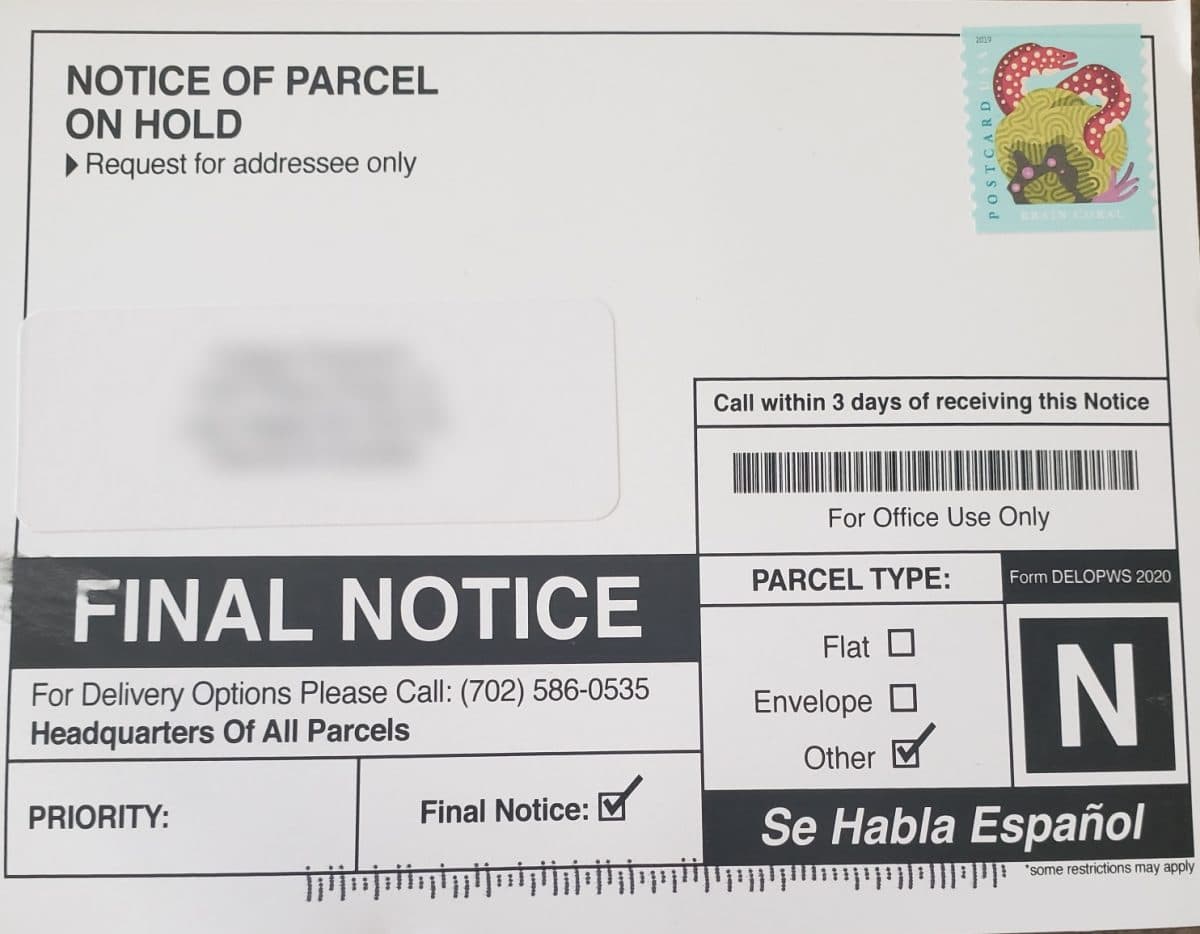 November 2020 Notice of Parcel on Hold:
July 2016 Notice of Package on Hold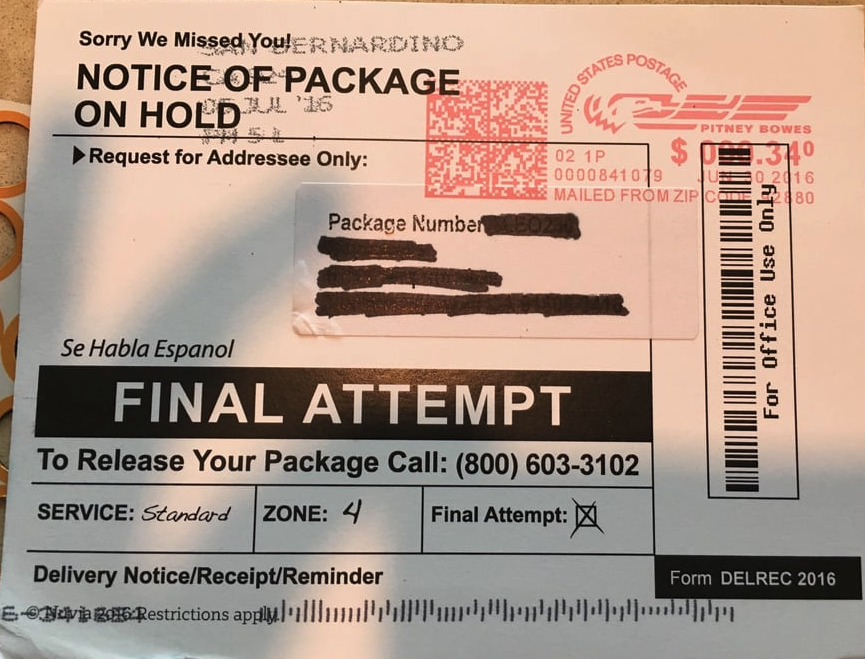 Variations of this post card scam have been going on since 2016. It must be working, unfortunately, cause the company is still operating and sending out these notices well into 2023.
Phone numbers associated with this scam:
(855) 912-1655 – July 2023
(855) 744-1585 – July 2023
(855) 225-8202 – July 2023
(279) 202-6373 – July 2023
(559) 271-6901 – September 2021
(916) 245-1807 – June 2021
(626) 365-0532 – May 2021
(737) 931-1544 – April 2021
(714) 786-8743 – April 2021
(619) 824-3633 – April 2021
(619) 363-4237 – April 2021
(702) 586-0535 – January 2021
(714) 486-3605 – November 2020
(916) 378-5151 – October 2019
(800) 478-1335 – July 2016
(800) 603-3102 – July 2016
The phone numbers appear to be localized, to give the appearance of legitimacy.
If you believe you've been a victim of this scam, you should file a complaint with U.S. Postal Inspection Service (USPIS) by calling 1-877-876-2455, visiting the USPIS website, or by mailing your complaint to the Criminal Investigations Service Center ATTN: Mail Fraud, 433 Harrison Street Rm. 3255, Chicago, IL 60699-3255.
One complaint published about Nuvia's post card tactics went on to explain quite a bit about their process.
NUVIA used social engineering tactics in order to make me believe that they were from the city and wanted to schedule an appointment to test our water system since we had the house built. Later, they sold me a water treatment system for $7,500.

The company sent installers to come and install a system before the finance department could set up the loan. When I received the loan agreement I noticed that I was being charged an additional $4,500 (Finance Charge for a loan of $7,500. I called NUVIA's finance department and they stated it was interest, however, it is not stated in the agreement, it only says charge.

I decline the agreement and asked them to please remove the system, they kept telling me that they need to redo the agreement. Needless to say this issue has been drugged out over 2 weeks now and the system had not been removed.

Now, NUVIA wants to force me into signing the agreement by charging me $900 for the installation and removal of the system, because it had been sitting in my house for more than 3days.

I just want the system out of my house and would like to not be pressured into signing a finance contract, nor do I believe that I should pay so much if the company failed on their part of the original contract, additionally, is it not the company's responsibility to secure financial agreements prior to installation?

It is not ethical to force people into an agreement by giving them the option to either pay a high installation and removal (which was stated that the company would pay for installation) or sign their agreement with low payments and double the price of what was agreed.

Anonymous, August 2020
Several reports include offers of a gift card to get you on the hook.
To begin with, the shady tactic of using a final notice form in the mailbox was a red flag, but I went against my better judgment and decided to go through with the testing anyway. They offered a $50 Visa gift card to come by and talk about their product.

They guy came and he was alright at this point. He tested the water it obviously showed it was hard and yadayada… so he was explaining the price of the product would be around $7-9k for a 7 year loan. I explained that I don't do loans and that if I were to buy, I would purchase straight up.

Well, when I said that, he told me the system would only be $2500. That was another red flag. They either charge an insane amount of interest on the product or throw in extra "fees."

So being the gullible guy I am, I said yes, and set an install date. BTW, this guy did not bring the promised $50 Visa card and said he would have it on install day… So between then and the install day I started researching water systems and reading reviews on this company.

Turns out I can get a high end system for less than $1500. When I was on the nuvia website I saw the product that the guy showed me and it was the "lower tier" and they don't show product prices on the website, which was another red flag.

The reviews on BBB about the customer service was not good at all from what I was reading. So install date comes and I tell the guy that I need more time to further look into prices and what I really need (I did not have this guys contact info otherwise I would've called ahead).

He obviously starts to get frustrated and tries to talk me into buying, saying that they already bought parts for this "custom" job. I tell him again I need more time, and at this point he attempts to coerce me into buying saying that there is a cancellation fee and I have to pay for hundreds of dollars worth of purchased parts.

That was the final push, I was not having any of that, and I said to send me the bill and I will bring it up with the company. He got pissed and turned away cussing. I went inside and her must've left the $50 Visa at the door because my wife found out after he left. BUT he came back shortly after saying that he needs the $50 Visa back and gave my two $25 gift cards to some restaurant. So all in all, very shady and unprofessional. Luckily my security system has the whole thing recorded.

Anonymous, July 2020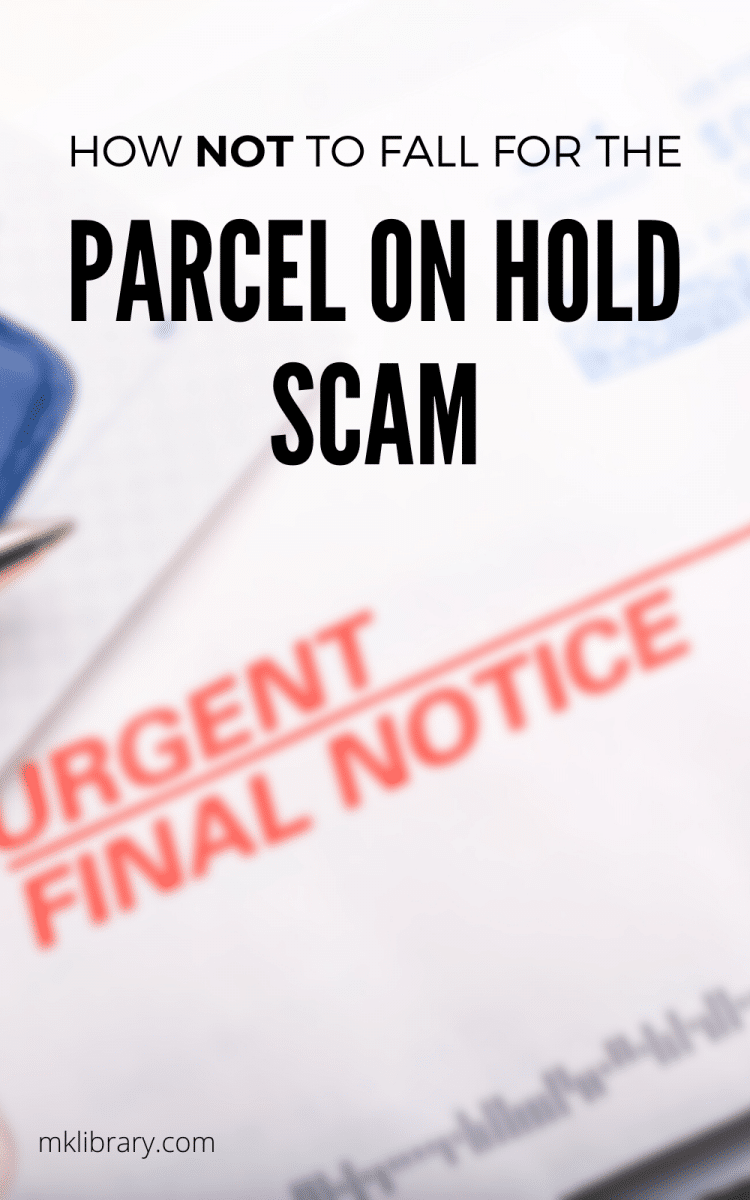 Updates
July 2023: New phone numbers and post card photos.
I strive to paint vivid landscapes with my words, bringing the magic of far-off lands and enchanting aromas to life for my readers. Combine passion for exploration and the art of gastronomy in an unending ode to the senses. When I'm not traversing the globe, I find solace in the earth beneath my fingertips, tending to my garden and working on projects around my verdant oasis. MK Library serves as a beacon, guiding fellow travelers and homebodies alike to embrace sustainability, nurturing both our planet and our souls with purpose. Full Bio.