In the digital age, where data is the new gold, the way we interact with the internet is constantly evolving. One of the most intriguing developments in recent years is the emergence of Grass, a decentralized residential proxy market from Wynd Network. This browser extension is set to revolutionize how we monetize our internet connection by selling unused network resources. But what does this mean, and how does it work? Let's delve into the world of Grass and explore how it's changing the game.
How To Setup Grass
Create an Account
First, you'll need to sign up on Grass.io with a referral code:
Referral code: tY1yaZj7byiPgxI
Make sure you sign up with an email connected to your PayPal account, as this is how you will be receiving payments.
Install Extension
Once you've finished registering, you need to install the Grass Extension.
Login to the Extension and you will begin earning immediately.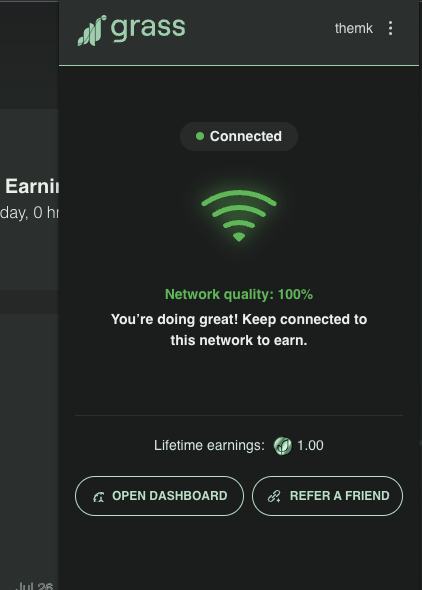 Dashboard
Reload the Grass Dashboard and you will begin seeing your earnings add up.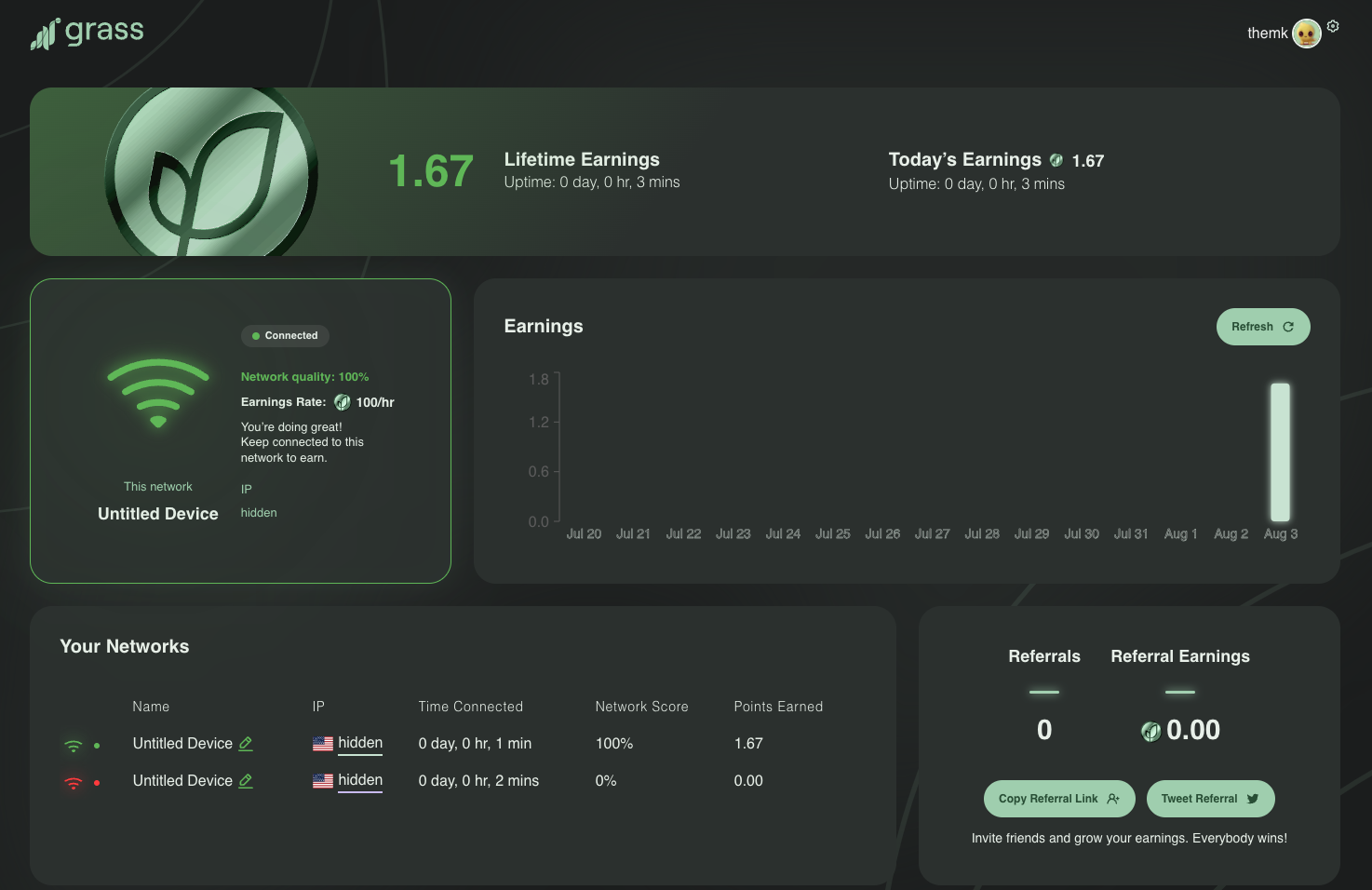 Making Passive Income With Grass
Grass is a revolutionary concept, serving as a decentralized residential proxy market that aims to transform the way we monetize our internet connection. Let's dive into the details of how Grass plans to benefit you and how you can maximize your passive income as one of the earliest adopters.
The Grass Rewards System: Earning Points and Commissions
Grass is designed to sell unused internet bandwidth to companies and academic institutions that need to view the web from various locations. With big data being a $274 Billion industry, the potential to earn from residential IP addresses like yours is significant.
The Grass rewards system is measured in Grass Points, paid out in direct proportion to your uptime on the network. The more your computer is on and connected to the internet, the more points you rack up. Plus, you can earn a 20% commission on points accrued by people you refer. At this stage, you could be earning up to 100 points an hour, plus another 20 from referrals.
How To Make Upwards of $900 Per Year: Translating Points to Passive Income
Grass points will soon be redeemable, and you'll get paid out on PayPal, in cryptocurrency, or in virtual gift cards. Here's how the numbers break down:
15 GB/month (average download by buyers through each proxy IP)
$5/GB (price per GB for this example)
Location: US
Time Period: 5 Years
Total: $4,500
This equals out to $900 per year or $75 per month. Essentially, you could be making enough to cover your phone or internet bill every month, entirely by selling bandwidth, requiring no work on your part.
Our Progress is Your Paycheck: Growing the Network
The value of Grass is directly proportional to the number of IPs operating on it. The more IPs, the more buyers will pay for each gigabyte they use. Two key points to consider:
You're not just earning Grass points at a set value: By expanding the network, you're making it more valuable and actively contributing to raising your own fees.
When you accumulate points, you own a part of the network: As the network grows in value, you share in this growth.
Being one of the earliest users of Grass, you'll be part of the network's growth, and updates about key statistics will be signs of success for all, including you.
Progress Update: Grass's Current Success
In just over four weeks of the Grass Beta, the network has achieved:
190,000+ Unique IPs
30,000+ Downloads
25,000+ Referrals
American IP addresses are highly sought after, so recruiting more users in the United States will scale the value of the network more quickly. Whether you're in the US or have American friends, downloading Grass and sharing referral links can drive more traffic through the entire network, benefiting everyone.
Conclusion: A New Era of Fair Compensation
Grass is not just about changing an unfair system that exploits internet connections; it's about empowering users to take control of their resources and earn passive income. With a transparent rewards system, opportunities for referrals, and a growing network, Grass is setting the stage for a more equitable and profitable future for all its users.
The potential to make upwards of $900 per year by simply sharing unused bandwidth is a game-changer. As Grass continues to expand and evolve, the opportunities for users to earn and contribute to a fairer internet landscape will only increase. Join the Grass network today, and be part of a revolution that puts the power back in the hands of the people.
How Grass Works
1. Defining Residential IP Proxies: Your View of the Internet
The concept of Grass revolves around the idea of residential IP proxies. Imagine an airline that wants to know the prices charged by competitors for plane tickets. They need to access this data from various locations to get an accurate picture. This is where your unique IP address comes into play.
By acting as a residential IP proxy, you allow someone to route their internet traffic through your IP address, enabling them to see the internet from your perspective. This view can be used to scrape the web for public data, such as pricing information.
In real terms, this means sharing your internet connection. If you have idle bandwidth that isn't being used, companies can utilize it to scrape the web from your IP address. This resource, which you might not even realize you have, is valuable, and it's being given away without your knowledge.
2. The Residential Proxy Market Today: A Centralized Problem
Currently, the residential IP proxy market is controlled by a few centralized service providers. These companies create massive proxy networks using residential IPs and sell the unused bandwidth to buyers.
The problem? In the best-case scenario, the owners of these IP addresses are paid as little as possible to maximize profits for the network. In the worst-case scenario, everyday internet users are unwittingly donating their unused bandwidth without receiving a penny in return.
This situation has led to an industry that is, at best, vaguely exploitative and, at worst, outright unethical. The existing landscape is dominated by middlemen who extract value without fair compensation to the rightful owners of the network resources.
3. Introducing Grass: A Decentralized Solution
Grass is here to change the status quo. As a decentralized alternative to existing networks, Grass allows users to sell their unused bandwidth ethically, democratically, and securely.
Ethical: Grass transfers the proceeds of selling network resources to their rightful owners, rather than exploiting them.
Democratic: By paying in tokens, Grass compensates users with ownership of the network itself, giving them a stake and a say in its direction.
Secure: Decentralization mitigates the inherent danger of having a small number of companies control this infrastructure.
Grass operates as a web extension that users can download and forget about. It works behind the scenes, helping others acquire public web data in exchange for payment in the protocol's native token. This token serves dual purposes: it accrues a portion of the fees collected by the network, and it functions as a governance token, allowing users to vote on important decisions about the protocol.
A More Equitable Future
Grass is more than just a technological innovation; it's a principled approach to an industry that has long been marred by exploitation and centralization. By leveraging blockchain technology, Grass is creating a more equitable distribution of resources and putting network control back in the hands of its rightful owners.
The potential of Grass to revolutionize the residential proxy market is immense. It offers a way for individuals to monetize something they didn't even know they had, and in doing so, creates a more secure, ethical, and democratic marketplace for network resources.
In a world where data continues to drive business decisions, Grass stands as a beacon of fairness and innovation. It's not just about making passive income; it's about reshaping an industry and making the internet a more equitable place for all.
More Passive Income Ideas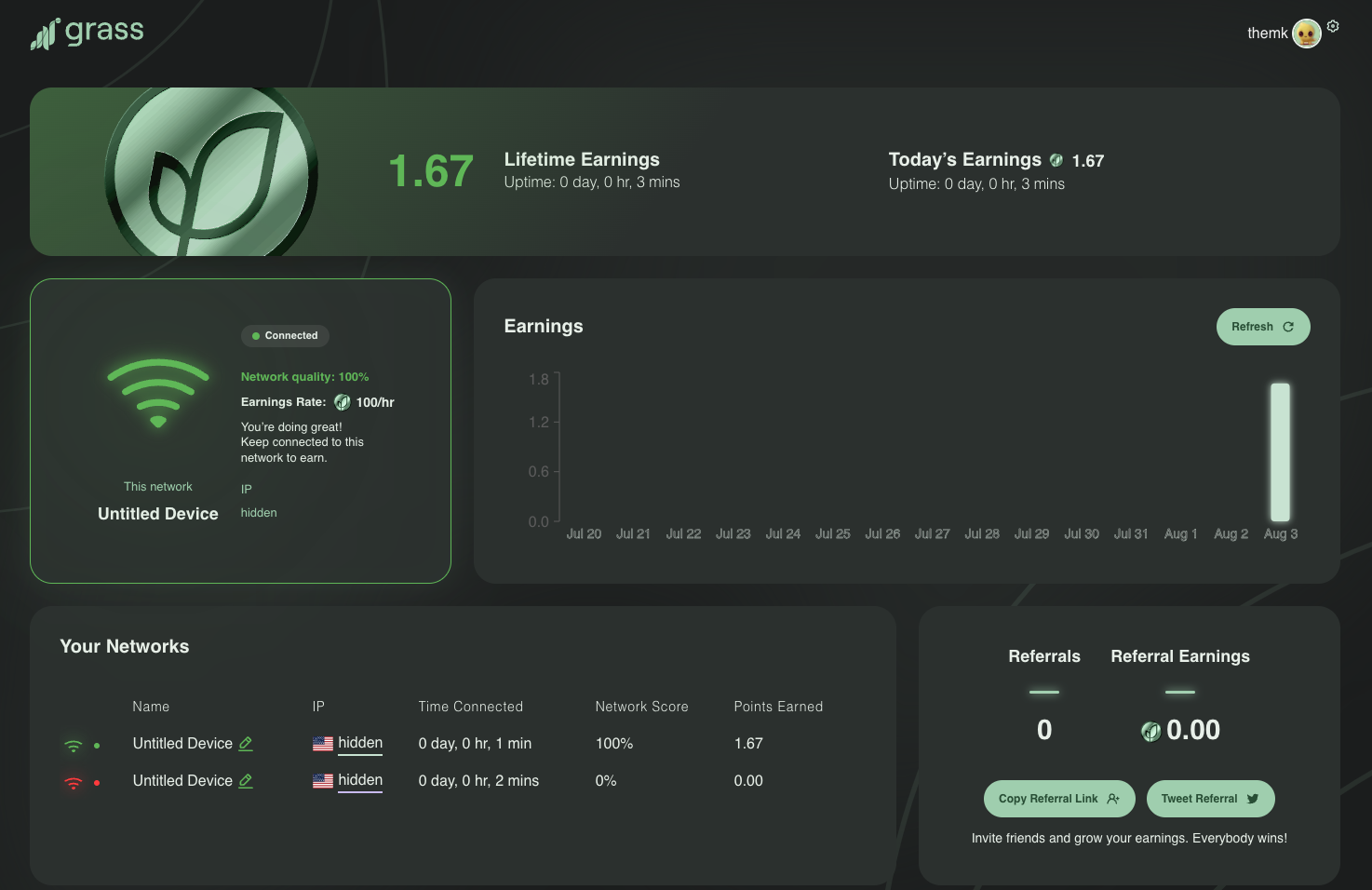 In the digital age, where data is the new gold, the way we interact with the internet is constantly evolving. One of the most intriguing developments in recent years is the emergence of Grass, a decentralized residential proxy market from Wynd Network. This browser extension is set to revolutionize how we monetize our internet connection …
I strive to paint vivid landscapes with my words, bringing the magic of far-off lands and enchanting aromas to life for my readers. Combine passion for exploration and the art of gastronomy in an unending ode to the senses. When I'm not traversing the globe, I find solace in the earth beneath my fingertips, tending to my garden and working on projects around my verdant oasis. MK Library serves as a beacon, guiding fellow travelers and homebodies alike to embrace sustainability, nurturing both our planet and our souls with purpose. Full Bio.