These are the best trees to plant for small yards. Having a small backyard doesn't have to mean giving up on your dreams of a lush, colorful backyard sanctuary. It just requires a little more forethought in your choice of foliage. The solution to your small-yard is as simple as remembering that small yards require small trees.
Here are six petite tree varieties that will add beauty and interest to your compact yard all year.
Japanese Maples
If properly trimmed and maintained, your Japanese maple will grow to perfectly fit your compact back or front yard. Even the larger forms of Japanese Maples make ideal small trees because they only tend to reach around 20 feet over a very long growth period. Several of these unique and diverse maples can quickly turn your yard into an inviting urban forest.
Some nurseries may try and sell you dwarf shrubs and privets, but neither are a substitute for a Japanese maple tree. Some unique Japanese maples include the Ribbon-Leaf, Green Cascade, Autumn Moon and Beni Kawa.
USDA Hardiness Zones: 5 – 9
Lavender Twist Weeping Redbud
With proper pruning, weeping redbud trees, can be a great addition to a smaller yard or garden. Despite its name, these tree can actually produce white, pink, red, or purple flowers, making them a real showstopper during their spring bloom. While the redbud is in bloom, you'll often find bees, butterflies and hummingbirds visit the tree to collect nectar and pollen.
A lush canopy of dark, glossy leaves in the summer turn a bright yellow in the fall, providing interest in your small yard year round. It also has an eye-catching shape, with branches that droop downward to form an umbrella shape. These trees will usually reach a mature size of 5-10 feet tall and 5-10 feet wide with some pruning.
Another great redbud tree for a small yard is the Eastern Redbud, which produces striking magenta blooms.
USDA Hardiness Zones: 5-9
Royal Raindrops + Prairifire Crabapple Tree
Both of these Crabapple trees develop a brilliant display of pink flowers in the spring and purple foliage in the fall and winter. These trees love full-sun and do not require much pruning to grow a balanced canopy.
Although they can to about 15-20 feet tall and wide, these crabapple trees still make a great statement piece for any small yard. They provide rich colors throughout the year with shades of bronze, orange and mahogany leaves in the fall. The red crabapple fruit also attracts interesting wildlife.
USDA Hardiness Zones: 4-8
Venus Dogwood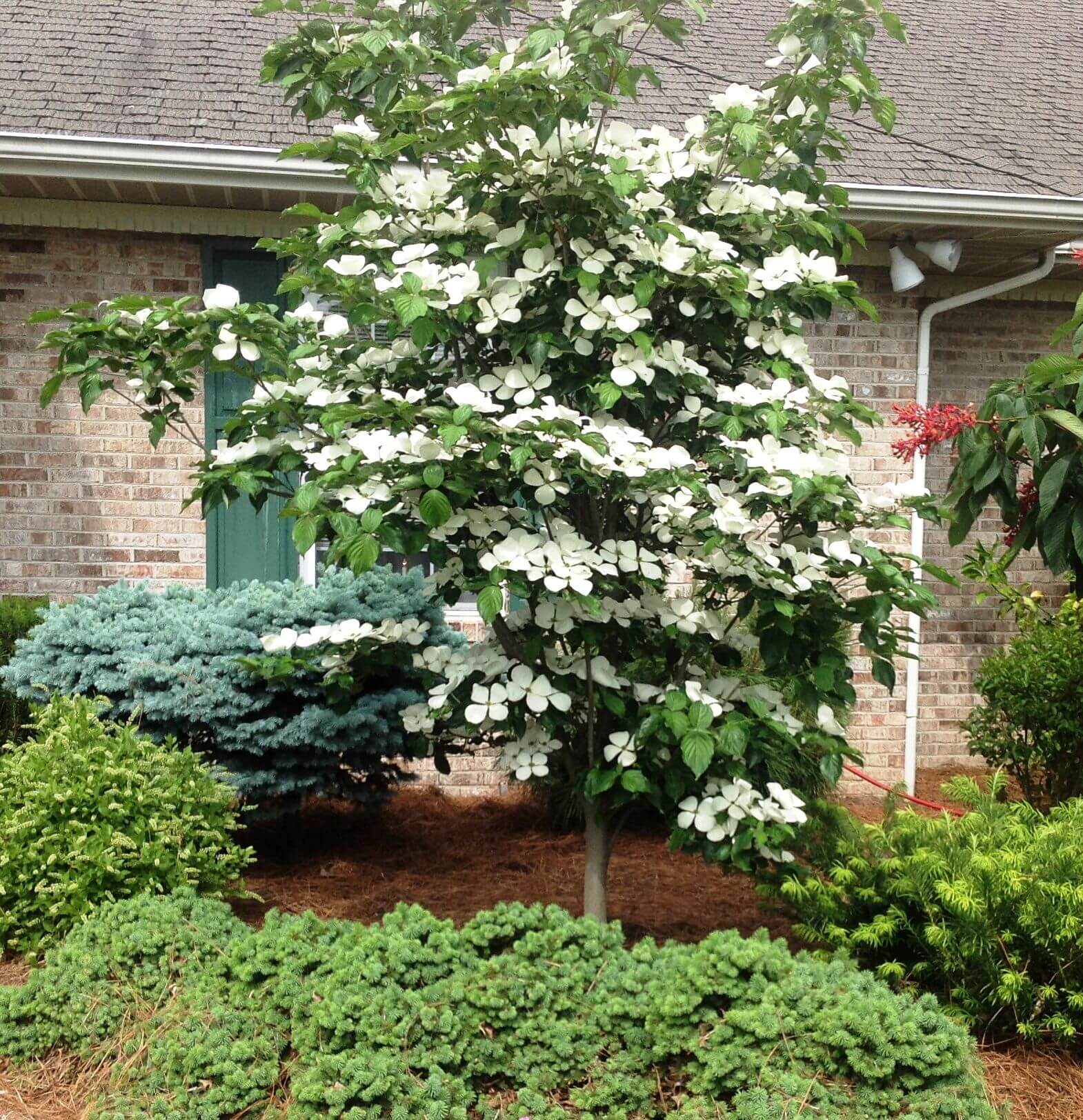 The Venus Dogwood tree is a hybrid between the native Western dogwood and the Chinese dogwood. This tree produces large white flower-like leaves during the spring and red berries in the autumn that birds love to snack on. This cultivar is very resistant to winter cold and disease and also tolerant to drought. This dogwood can grow up to 20 feet tall.
USDA Hardiness Zones: 5 – 9
Check out this post about dogwood trees to discover more beautiful varieties.
Common Witch Hazel – Hamamelis virginiana
The common witch hazel tree is a small fragrant tree that produces bright yellow, fringe-like flowers in late winter. It easily withstands cold weather and the round dark green leaves often stay into winter. Its fruit capsules split and reveal seeds that birds love to feed on. Witch hazel prefers moist, well-drained soil and grows anywhere from 15 to 25 feet.
USDA Hardiness Zones: 3-8
Weeping Birch – Betula pendula

The weeping birch makes a great addition to any smaller yard with its unique drooping limbs. The graceful weeping canopy provides plenty of shade and adds interest to your yard throughout the year. This tree requires full sun, and can grow 8-10 feet tall and 15 feet wide. It needs a fair amount of water, so water weekly or more frequently in hot weather.

USDA Hardiness Zones: 2-7

Pin this!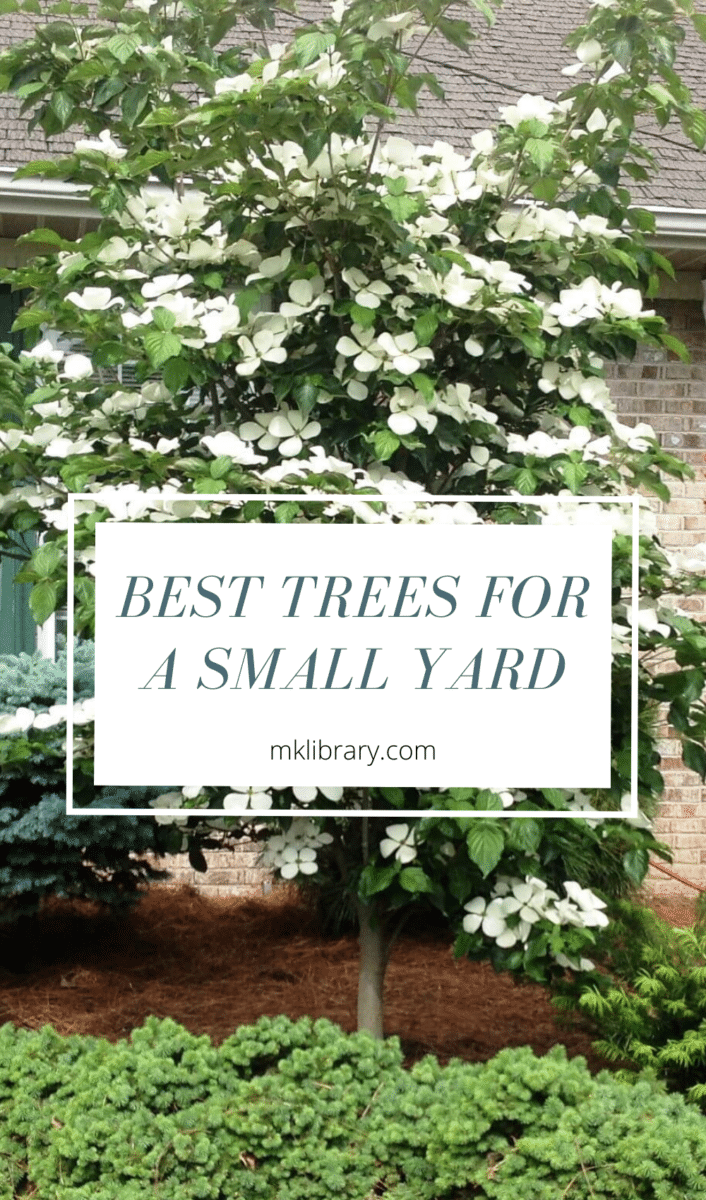 I strive to paint vivid landscapes with my words, bringing the magic of far-off lands and enchanting aromas to life for my readers. Combine passion for exploration and the art of gastronomy in an unending ode to the senses. When I'm not traversing the globe, I find solace in the earth beneath my fingertips, tending to my garden and working on projects around my verdant oasis. MK Library serves as a beacon, guiding fellow travelers and homebodies alike to embrace sustainability, nurturing both our planet and our souls with purpose. Full Bio.